Why is Xinjiang violence escalating?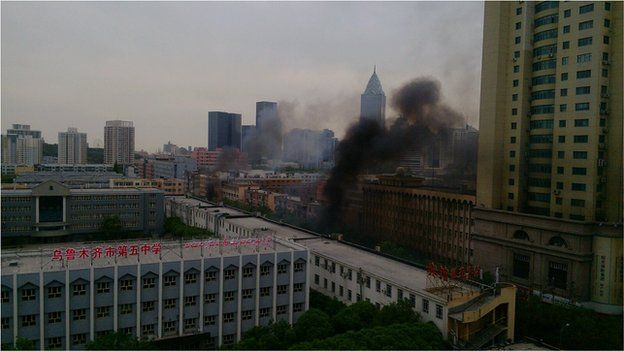 Dr Michael Clarke, an expert on China's Xinjiang region, examines the factors behind the apparent change in tactics from those behind rising Xinjiang-linked violence.
According to Chinese Foreign Ministry spokesman Hong Lei, the 22 May attack on an open-air market in Urumqi's predominantly Han-populated Shayibake district, which left 31 people dead and 94 injured, demonstrates that Uighur "terrorists are swollen with arrogance".
The latest attack comes on the heels of the spate of violence so far this year linked to Xinjiang and the Uighur, including the 1 March mass knife attack at Kunming train station and the 30 April knife and bomb attack at Urumqi's central train station.
The pattern of the recent attacks does suggest an escalation or even radicalisation of Uighur opposition to Chinese rule. In contrast to past episodes of low-level violence in Xinjiang, which have been characterised by low technology and opportunistic attacks on representatives of the state (e.g. police, public security personnel or government officials), the current spate of violence through its targeting of public spaces is clearly designed to be indiscriminate and mass impact in nature.
This change in tactics suggests two immediate possibilities: that this may be a concerted effort to escalate the conflict between not only the Chinese state and Uighur militants themselves but to also further polarise the wider Uighur and Han population in the region; and that Uighur militants are drawing on models more akin to the mass-casualty terrorism that we have come to associate with Al-Qaeda and their ilk.
The key question however is: why now?
There are two possibilities that suggest themselves. The first relates to the role of what Beijing likes to term "hostile external influences" in Xinjiang. This has focused on the potential influence of radical Islamist groups that Beijing has blamed for recent attacks, the East Turkestan Islamic Movement (ETIM) and the Turkestan Islamic Party (TIP).
ETIM, according to most informed observers, only functioned for a brief period from the late 1990s to early 2000s and petered out soon after the death of its leader, Hasan Mahsum, during a Pakistani military operation in Waziristan in 2003. TIP emerged in 2005 as a successor organisation and is believed to consist of between 200 to 400 militants based near Mir Ali in North Waziristan allied with the Pakistani Taliban and the Islamic Movement of Uzbekistan (IMU).
In contrast to ETIM, TIP has had a higher profile due to regular claims made by its leadership in relation to events in Xinjiang (TIP for example has issued statements supporting the Kunming and Urumqi train station attacks) and its use of the Internet as a vehicle to disseminate its calls for "jihad" against Chinese rule. TIP's actual operational capabilities, however, are much less clear and given the group's geographic isolation from Xinjiang, its lack of resources and small number of militants, it is probable that its influence in Xinjiang is of an exemplary nature.
The second possibility concerns the relationship between Chinese policy in Xinjiang and the apparent trend toward escalating violence.
Beijing's goal since the region was incorporated into the PRC in 1949 has been to politically, economically and culturally integrate Xinjiang and its non-Han populations into the "unitary and multi-ethnic" Chinese state. It has sought to achieve this through a three-pronged strategy of repression, restriction and investment.
Especially since the early 1990s, Beijing has instituted a massive, state-led modernisation project, funnelling billions of dollars into construction and infrastructure linking the region's economy with the rest of the country and neighbouring Central Asia on the assumption that the delivery of economic growth will dampen Uighur discontent.
Yet on the contrary state-led modernisation has exacerbated Uighur disaffection by encouraging further Han Chinese settlement of Xinjiang and growing inter-ethnic and urban-rural economic inequalities.
Over the same period the state has also rarely let up its willingness to use police and military force to suppress overt displays of Uighur opposition nor its efforts to control and monitor elements of Uighur religious and cultural expression.
In a recent example that demonstrates both of these tendencies, Radio Free Asia reported on 20 May that in Alaqagha township near Aksu, authorities had violently suppressed a protest against the detention of women and schoolgirls for wearing the hijab or headscarves, killing up to four protestors.
The core problem from this perspective is that Uighur grievances arising from the combined effects of the unevenness of the state's modernisation strategy and its repressive tendencies have no effective or "legitimate" outlet. Beijing's treatment of the prominent and outspoken Uighur scholar Ilham Tohti is emblematic of this dynamic.
Mr Tohti, a moderate voice who has called for greater autonomy but not independence for Xinjiang, was arrested on 15 January this year for "inciting separatism" in his role at the Central University for Nationalities in Beijing.
That such a moderate critic, operating from a relatively privileged position and within the parameters of legitimate debate established by the state, can be so rapidly silenced gives us an indication of how marginalised the voices of average Uighurs are in Xinjiang. In this context, the radicalisation of a segment of the population should not be viewed as surprising.
Dr Michael Clarke, a research fellow at the Griffith Asia Institute, Griffith University, Australia, is the author of Xinjiang and China's Rise in Central Asia - A History.