How Tiananmen inspires Hong Kong youth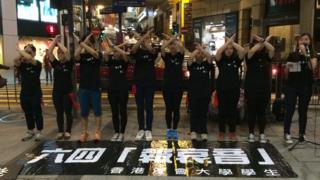 On a sultry spring night, about a dozen students from Baptist University in Hong Kong serenaded passers-by in the busy Central business district.
Belting out catchy Cantopop songs, backed by guitar, the singers might have been mistaken as ordinary buskers.
But there was no collection box. Instead, they wore identical black T-shirts, and at their feet lay a large black banner proclaiming the name of their movement: the Voice of 4 June.
Nearly every day for three weeks ahead of the 25th anniversary of the Tiananmen Square protests, seven different groups from Hong Kong's most prestigious universities fanned out across the city to sing in two-hour street performances.
"It is a very critical time for all of us, especially for university students to fulfil our responsibility to let more people know what happened on Tiananmen Square," says Chan Tsz Kwan, 20, between leading pro-democracy songs called Freedom Flower, Democracy Will Win the War and Mama, I've Done Nothing Wrong.
---
Tiananmen protests
From 1978, China opened up its economy to the world, but Communists maintained total control over politics
In 1989, hundreds of thousands gathered in Beijing's Tiananmen Square to call for political reform
Protesters remained in the square for weeks while a power struggle raged within the ruling Communist Party
Hardliners prevailed and gave the order to remove the protesters by force; hundreds were massacred in nearby streets
In pictures: Tiananmen protests
---
"I am not very optimistic about the political developments in Hong Kong and China. But for me, the great change that I would like to see and make efforts on is to raise awareness in Hong Kong citizens and among Chinese tourists."
At a time when the Chinese Communist Party has been trying to suppress commemorations of the 1989 protests on the mainland and strengthen its authoritarian rule, young activists outside their direct control in Hong Kong, Macau and Taiwan have never been more engaged, influential and, in some cases, successful in their advocacy campaigns.
Even though most were not born until after the Tiananmen Square crackdown, they say they continue to draw inspiration from the students who called for democratic reforms and clean government in Beijing more than two decades ago.
Continue the fight
At a May conference in Hong Kong on Tiananmen, 17-year-old Agnes Chow, spokeswoman for Scholarism, a student activist group, told the audience they intended to fight for what they call genuine democracy in the city.
"There is a very close relationship between the 4 June movement and civil participation in Hong Kong," she said. "The students in Hong Kong would like to continue what the students fought for in China."
Scholarism, founded three years ago by secondary school students, drew international attention in 2012 when it successfully campaigned against the introduction of patriotic education in Hong Kong schools.
Now, it has turned its attention to political reform.
Hong Kong, like Macau, is a Chinese city but has semi-autonomous status where freedom of speech and assembly are permitted.
Under the terms of its return to China in 1997, Hong Kong citizens were promised the right to some day elect their top leader, the chief executive.
The Chinese government has said the next chief executive election, in 2017, would be determined by universal suffrage.
But it has indicated that only candidates loyal to the mainland government would be allowed on the ballot.
Generational shift
In order to prevent what they believe would be a sham election, a group of Hong Kong academics and clergy have started a civil disobedience campaign called Occupy Central to advocate for genuinely free and fair elections.
Buoyed by its success in opposing national education, Scholarism, along with many other pro-democracy groups, has joined the Occupy Central movement.
Last month, its proposal on democratic reforms, jointly sponsored with the Hong Kong Federation of Students, received the most support in a key vote that will determine what the public will see on the ballot in a citywide poll in June.
The results of the June vote, organised by Occupy Central and open to all eligible Hong Kong citizens over 18, will be presented to the city and national governments as an indication of what local residents want in 2017.
Ms Chow said the students were surprised their proposal received the most votes among Occupy Central members, saying the more established political parties seemed to have more clout.
But Rev Chu Yiu-ming, a Baptist minister who has emerged as main leader of Occupy Central, said he was not surprised.
"I think it makes a lot of sense. Young people have their own ideals. Tomorrow belongs to them," he said.
"It's up the next generation to build the political system. What they propose, we support. So I am not surprised they are taking a leadership role."
Too radical?
Like their predecessors in 1989, Hong Kong's student activists have been accused by some of being too radical in their demands.
In their proposal, candidates for chief executive must be directly nominated by at least 1% of all registered voters, about 35,000 people.
They must also be supported by at least 8% of all members of a proposed nominating committee, composed of popularly-elected legislative councillors.
The politicians would be barred from vetoing any candidates directly nominated by voters.
The proposal may seem uncontroversial, but Chinese officials have already ruled out the possibility of nominations from the public.
After the May vote, a more moderate member of Occupy Central called Hong Kong 2020, led by the city's former chief secretary Anson Chan, criticised the students' proposal, saying it would be obviously unacceptable to Beijing.
"By endorsing only proposals that provide for civic nomination of chief executive candidates, a relatively small and unrepresentative group of political activists has effectively disenfranchised a large section of the community who do not want to be led down a path towards direct confrontation with the central government," it said.
And in an opinion piece for the daily South China Morning Post newspaper, the columnist Alex Lo wrote the proposal did not reflect the opinion of most Hong Kong people.
"Are these people representative of Hong Kong's 3.5 million electorate or just an extremely small, self-selecting sample group that constitutes the most extreme and uncompromising elements within the pan-democratic camp?"
The public will have a chance to express their views on the students' proposal in the city-wide voting exercise in June.
For now, Scholarism is busy with other activities, including building relationships with their counterparts in Taiwan and Macau.
The group's founder, Joshua Wong, travelled to Taiwan recently to meet student leaders who occupied the island's legislature in March, in an effort to oppose a trade deal with China.
A few weeks ago, Scholarism hosted young activists from neighbouring Macau, another semi-autonomous Chinese city, who last month won a rare victory in pressing the government to withdraw a bill that would have offered perks to retiring government officials.
Ms Chow said: "We shared our experience in how to organise, how to liaise with volunteers and how to communicate our message. The system in Macau is less open, so they have a much tougher time than we do."