China investigation finds 1,000 'naked officials' in Guangdong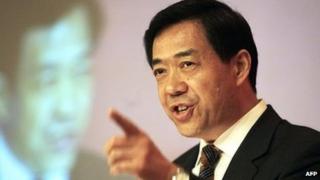 An investigation in China has revealed that more than 1,000 officials in the southern province of Guangdong have spouses or children living abroad.
China's communist leaders want to stamp out the practice because they believe it is linked to corruption.
The practice is not illegal but gives corrupt officials a route to send abroad any money obtained illegally.
Guangdong bureaucrats were told to bring their families home, quit their jobs or face demotion.
Wife or job?
China's state-run news agency, Xinhua, said the communist party in Guangdong had carried out a two-month investigation into a group known as "naked officials".
The name is applied to Chinese civil servants who have sent family members to live abroad. Some then funnel ill-gotten gains to these overseas relatives, leaving the bureaucrats with few assets in China - or "naked".
About 200 Guangdong officials had already asked their families to return to China, Xinhua said. Another 866 had agreed to accept demotion, including nine at mayoral level.
One official, surnamed Liu, told Xinhua he had quit his job instead of forcing his wife home from Hong Kong, considered a separate legal entity from the rest of the Chinese mainland.
"I told my parents and my wife about the new regulations of the central and provincial governments, but my wife preferred to live in Hong Kong. As family life is equally important to me, I decided to support my wife and give up my job," he said.
Chinese officials have for many years been sending their family members abroad to live and study.
The disgraced former member of the communist party's politburo, Bo Xilai, sent his own son to study at Britain's prestigious - and expensive - private school, Harrow.
Mr Bo was convicted of corruption and abuse of power last year.