China media: Ties with India's Modi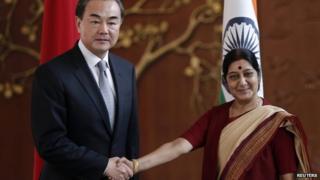 Media analyse China-India economic ties, as foreign minister Wang Yi visits Delhi for meetings with the new Indian government.
Mr Wang met his counterpart Sushma Swaraj on Sunday and discussed ways to improve cooperation in several areas including trade and investment.
He announced that President Xi Jinping will visit India this year, reports say.
India's new Prime Minister Narendra Modi led his Bharatiya Janata Party's (BJP) to a landslide victory in the general election.
Mr Modi has pledged to revitalise the economy and deepen ties with China during his term.
The China Youth Daily sees the task of revitalising India's faltering economy as "absolutely possible" under Mr Modi's leadership.
"The Sino-India competition is like a soccer match. China is leading at the first half of the game with a wide margin. The second half of the game is beginning as India enters into the Modi era," it says.
"With a low starting point, it is absolutely possible that India will perform better than before."
Fu Xiaoqiang, an expert on South Asian studies at the China Institutes of Contemporary International Relations, tells the China Daily that India will "take lessons" from China.
"A major boost to the Indian economy cannot be achieved without impetus provided by China-Indian economic co-operation," he says.
An article on China Net says both China and India have adopted similar positions in international affairs, and there is "no foundation" for conflicts between the two countries to happen.
It notes that Japan is also eyeing to establish closer ties with India, but states that China-India relationship will reach a "new height".
"The sluggish global economy will bring the Beijing-Delhi economic co-operation closer…It will not benefit China and it will disrupt India's development if the bilateral relationship turns bad because of Japan," it says.
'Dog meat-eating festival'
Elsewhere, media criticise Vietnam's "provocations" after China accused it of launching more than 1,400 ramming raids on its ships near a drilling rig in the South China Sea.
According to an article released on the foreign ministry's website, "as many as 63 Vietnamese vessels" attempted to "break through China's cordon and ramming Chinese government ships a total of 1416 times" on Saturday.
The Philippines, Brunei, Malaysia, Vietnam and Taiwan all have overlapping claims with China in the South China Sea.
Experts tell the China Daily that Beijing has "exercised great restraint for the sake of bilateral ties and stability in the South China Sea".
Qi Jianguo, China's former ambassador to Vietnam, says Hanoi's "infringement will continue in the immediate future".
An article on the Haiwai Net says Vietnam will not be able to gain support from other countries because China has become more "influential" in the region.
And finally, papers and social media users are debating the viability of a "dog meat-eating festival".
Thousands of diners are expected to throng to the streets on 21 June for the feast, which includes dog-meat hotpot and strong liquor, reports say.
The festival has drawn strong reactions online with animal rights activists, lawyers and celebrities rallying to stop the feast.
An article in the Global Times suggests that local authorities should "rationally" guide the festival.
"If the tradition is difficult to remove in a short period of time, the authorities need to initiate and carry out more strict rules regulating local restaurants, especially food hygiene," it says.
"A crackdown on stealing domestic and stray dogs must be imposed."
Some netizens, however, are defending it, saying eating dog meat is a Chinese tradition, and there is no law forbidding people from consuming it.
"I support the festival. Dogs are animals just like pigs and cows. Those animal lovers can go ahead to boycott, but they will not stop us from eating," a Yulin resident is quoted by the Dalian Evening News as saying.
BBC Monitoring reports and analyses news from TV, radio, web and print media around the world. For more reports from BBC Monitoring, click here. You can follow BBC Monitoring on Twitter and Facebook.