China media: US-led joint naval drill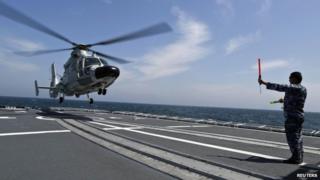 Media discuss Beijing-Washington ties as China agrees to participate in a US-led joint naval drill.
According to the Liberation Army Daily, the Chinese navy has confirmed that it will send four ships including a missile destroyer and a frigate to the five-week long Rim of the Pacific exercise.
Reports add that navies from 23 countries, including Japan and South Korea, would take part in the multinational maritime drill that starts on 26 June.
China's confirmation to participate comes amid escalated tensions between Beijing and Washington over trade disputes and accusations of cyber spying.
A commentary in the Beijing News notes that China has deployed its most-advanced vessels to participate in the drill despite recent "heated arguments" with the US over several issues.
"China has responded positively to the invitation and it shows the friendly and transparent interactions between both militaries," it says.
It adds that Beijing wants to "narrow the distance" between its navy and other naval powers through this exercise.
"This is the first time China is sending such a high-level fleet. This shows that the Chinese military hopes to learn from the US and other countries which have most-advanced training methods," it says.
Zhang Junshe, a military expert with the Naval Military Studies Research Institute, tells the Xinhua News agency that China's participation will increase "mutual trust" and help "reduce misunderstanding and misjudgement" that the US and others have with Beijing.
Echoing similar sentiments, Song Zhongping, a military affairs commentator, notes that the ships in the Chinese fleet are among the most-advanced of their kind.
He adds that the US invitation to China indicates that "Washington hopes to observe and evaluate China's naval capability in this drill".
"China's agreement of participation shows its confidence in its naval capability and increasing transparency in its military build-up," he tells the Global Times.
'High alert'
Elsewhere, media caution the international community to be on "high alert" because Japan reportedly failed to disclose about 640kg of plutonium in its annual report to the International Atomic Energy Agency (IAEA) in 2012 and 2013.
According to reports in the Chinese media, Beijing has demanded Japan to explain its under-reporting and "take concrete actions" to address the issue.
"We hope that the Japanese side can give an earnest response to the concern of the international community, take concrete actions as soon as possible," Hua Chunying, China's foreign ministry spokesperson, said in a press briefing on Monday.
Noting that the unreported amount is "enough to make as many as 80 nuclear bombs", the Global Times' Chinese edition warns that the international community should keep a close watch on Japan.
"The international community should deal with Japan's conduct in a serious manner. It also needs to look into Tokyo's strategic intention of doing so and ask if Japan is hiding other nuclear materials at the same time," it says.
And finally, media shine a spotlight on the government's anti-graft effort as authorities take a series of fresh actions against corrupt officials.
The Beijing Youth Daily reports that more than 50 officials at various civil service departments have been probed in the latest round of inspection. The China Daily notes that the authorities are also investigating a number of former officials.
Lin Zhe, a professor at the Party School of the CPC Central Committee, tells the daily that supervision of retired officials "should be enhanced" as they have a wide social network, and can still exert influence over government bodies after retirement.
BBC Monitoring reports and analyses news from TV, radio, web and print media around the world. For more reports from BBC Monitoring, click here. You can follow BBC Monitoring on Twitter and Facebook.