China media: Japan's 'risky behaviour'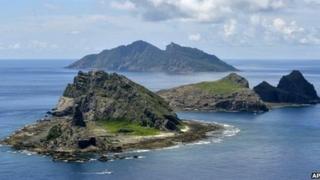 Media criticise Japan's "risky behaviour" after China releases video footage showing close encounters between military jets of the two nations.
Beijing says two Japanese F-15 fighter jets reportedly tailed Chinese aircraft and intruded into its East China Sea Air Defence Identification Zone on Wednesday, the Liberation Army Daily reports.
However, Japanese Chief Cabinet Secretary Yoshihide Suga denied the accusations and blamed the Chinese planes for posing a danger to the Japanese aircraft.
Last year, China outlined an "air-defence identification zone" over an area of the East China Sea, covering islands that are also claimed by Japan. The islands, known as Senkaku in Japan and Diaoyu in China, are a source of rising tension between the countries.
China's Ministry of National Defence has released two video clips on its website showing the close brush between the jets.
Describing the clips as "thrillers produced by [Japanese PM Shinzo] Abe", a Xinhua news agency article accuses Japan for "seriously jeopardising the safety of Chinese jets".
"Japan distorts facts, launches vicious attacks on China, spreads rumours of threats in the region and at the same time it is starting a series of military expansion. The international community should be on high alert," it warns.
Echoing similar views, military expert Wang Ya-nan adds that China had "all along kept a record of tailing by Japanese aircraft".
Beijing exercised restraint and tolerance by not revealing the records publicly in the past…But others are not appreciative of Beijing's controlled manner. China should often release such information in the future," he tells the Beijing Times.
'Panda show'
Meanwhile, media shine a spotlight on cross-strait ties as a top Beijing official prepares for a "breakthrough" trip to Taiwan.
The chief of mainland China's Taiwan Affairs Office, Zhang Zhijun, will visit Taiwan in late June, Xinhua reports.
He is scheduled to meet his Taiwan counterpart Wang Yu-chi.
Mr Zhang is also expected to "communicate with ordinary people on the island and learn about their ideas and suggestions on cross-Strait relations", says the report.
Ni Yongjie, vice president of Shanghai Research Institute of Taiwan, says that the visit will help Mr Zhang to "get in touch with the people there" and will help shape Beijing's Taiwan policies.
"The trip in itself is a breakthrough. It is a big step forward in the cross-strait relationship," he tells the Taihai Net.
And finally, a panda world cup prediction show was dropped over fears of a "negative impact" on the "national treasure".
Xinhua had earlier reported that three pandas were to predict the winner of the opening game by selecting materials marked with the national flags of competing nations.
According to the Global Times, the withdrawal came hours before the kick-off.
Heng Yi, spokesman for the China Conservation and Research Centre for the Giant Panda in Sichuan, denies any interference from the authorities.
However, he added the event was likely to "create too much human contact" with the pandas.
BBC Monitoring reports and analyses news from TV, radio, web and print media around the world. For more reports from BBC Monitoring, click here. You can follow BBC Monitoring on Twitter and Facebook.