Death penalty in Xinjiang for China Tiananmen crash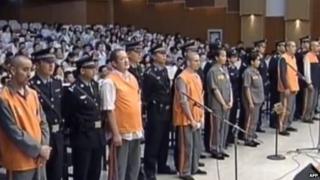 Three men have been sentenced to death in China over a car crash in Beijing's Tiananmen Square last October that left five people dead.
The men were convicted of carrying out a "violent terror attack" by a court in Xinjiang province, state media said.
Reports said at least two appeared to be from Xinjiang's Uighur ethnic minority, which Beijing accuses of waging a violent separatist campaign.
Another 13 people were executed on Monday over separate attacks.
Verifying reports from Xinjiang is difficult because the flow of information is tightly controlled.
State-run news agency Xinhua reported that the three men sentenced in connection with the Tiananmen car crash - Husanjan Wuxur, Yusup Umarniyaz and Yusup Ahmat - were guilty of "organising and leading a terrorist group and endangering public security".
Five others were given jail sentences for "participating in a terrorist group" and endangering security.
In October, a car crashed into a crowd in Tiananmen Square and burst into flames, killing two tourists - one Chinese and one from the Philippines - and injuring 38 other people.
Three people who were in the car also died.
Some reports at the time quoted officials as saying it was a suicide attack. But other police officials said the authorities had been chasing the car.
'String of attacks'
Separately, Xinhua reported that 13 people had been executed over "terrorist attacks and violent crimes" in Xinjiang.
Those executed were involved in seven cases, Xinhua reported, with charges including "taking part in a terrorist organisation, intentional homicide, arson, and creating and storing explosives".
The report named three defendants who were convicted of attacking a police station, hotel, government building and other venues in Lukqun, Xinjiang province, on 26 June, Xinhua said. The attack killed 24 police officers and civilians and injured 23 others, it added.
---
Uighurs and Xinjiang
Uighurs are ethnically Turkic Muslims
They make up about 45% of the region's population; 40% are Han Chinese
China re-established control in 1949 after crushing short-lived state of East Turkestan
Since then, there has been large-scale immigration of Han Chinese
Uighurs fear erosion of traditional culture
---
Uighurs are an indigenous ethnic minority in the western autonomous region.
Beijing has blamed Uighur separatists for a string of attacks around China, including an attack at a market in Urumqi, Xinjiang, in May that left at least 31 people dead, and a mass knife attack in Kunming, in Yunnan province, in March, in which 29 were killed and more than 130 injured.
Uighur leaders accuse the authorities in Beijing of repression, but deny that they are co-ordinating a terrorist campaign.
Chinese media also reported that three men wielding knives had burst into a gaming hall in Hotan, Xinjiang, and attacked a group of people playing chess on Sunday afternoon. Four people were hurt, they said.
Two of the attackers reportedly died when confronted by armed patrolmen while the third was captured.
The authorities have tightened security in Xinjiang in recent months and launched what they call an "anti-terrorism campaign".