Hong Kong votes in unofficial democracy referendum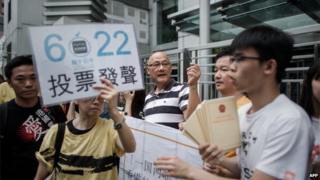 An unofficial referendum on universal suffrage in Hong Kong has begun, amid growing public anger with Beijing over how to elect its next leader.
The online vote is being organised by protest group Occupy Central, which says more than 35,000 voted in the first hour.
Correspondents say it is seen as a prelude to an escalating campaign of dissent in the territory.
A Hong Kong government spokesman said the online vote had no legal standing.
The spokesman said there was no provision under law for such a vote.
The BBC's Juliana Liu in Hong Kong says any forthcoming disruptions by Occupy Central could shut down the former British colony's financial district, further fuelling anger among China's Communist Party leaders.
Electronic voting on popvote.hk began at midday in Hong Kong (04:00 GMT).
Organisers claim that the website came under cyber attack shortly after voting started.
Popvote.hk was designed by the University of Hong Kong and Hong Kong Polytechnic University to measure support for Occupy Central's campaign for universal suffrage.
The voting deadline, originally set at 22 June, was extended to 29 June after another cyber attack earlier this week.
---
Analysis: Juliana Liu, BBC News, Hong Kong
Organisers hope hundreds of thousands of people will cast their ballots in order to send a strong message to the Hong Kong and Beijing governments that voters want a direct say in the nomination of candidates for chief executive in 2017.
But no matter how successful the referendum turns out to be, it is unlikely to sway the official view.
When asked for comment, a spokesman for the Hong Kong government said the proposals on the ballot are all illegal because they do not comply with the laws that govern the city, which require the chief executive to be chosen by a nomination committee.
In the referendum, voters have the choice of three proposals - all of which involve allowing citizens to directly nominate Hong Kong's chief executive - to present to Beijing.
In 2017 voters in Hong Kong will be allowed to select their next chief executive. But the contention is over how these candidates will be shortlisted.
Pro-democracy activists want the public to nominate the candidates. Otherwise, they fear the candidates will serve only the Beijing government's interests.
But Chinese leaders believe this is illegal and would like to see a smaller committee decide who is on that public ballot, effectively limiting the candidate field to those approved by Beijing.