Chinese media see 'giant leap' for ties with Taiwan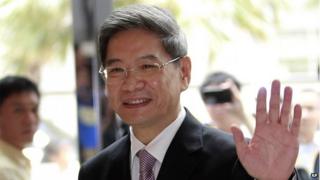 Chinese media are discussing cross-strait ties as a senior Chinese official arrives in Taiwan for bilateral talks.
Zhang Zhijun, chief of the mainland's Taiwan Affairs Office, started his four-day visit to Taiwan on Wednesday.
According to state-run media outlets, Mr Zhang's trip is a reciprocal visit after his counterpart Wang Yu-chi visited the mainland earlier this year.
The Beijing Times says Mr Zhang's main task is to build a "deep connection" with Taiwanese people.
"Mr Zhang will use three full days to understand the situation in the northern, central and southern parts of Taiwan. He will interact with people including experts, university students, farmers… listen to their views and suggestions on cross-strait ties, and explain to them the good intention of the mainland's Taiwan policy," it says.
Earlier in March, hundreds of Taiwanese students protested against a trade agreement which they said would hurt Taiwan's economy and leave it vulnerable to pressure from Beijing.
The Beijing Youth Daily notes that Mr Zhang has specially planned to use "three-quarters of his time" to "gain closeness" with the "compatriots from different field of work".
The Xinhua news agency describes the visit as "one small step for Mr Zhang, one giant leap for cross-strait relations".
"Against the noises and tricks trumpeting sentiment against the mainland and cross-strait co-operation on the island, may Mr Zhang's visit clear confusions and boost mutual trust between the two sides," it says.
The China News Service describes the trip as a "breakthrough" and points out that the "progress in cross-strait ties" has never been affected by the protests.
'Military build-up'
Elsewhere, papers criticise Tokyo and Manila for "ganging up" against Beijing as Philippines President Benigno Aquino backed Japan's military role in Asia.
While visiting Tokyo, Mr Aquino supported Japanese Prime Minister Shinzo Abe's plans to boost his country's military capabilities to defend itself and its allies, reports say.
Japan has also pledged to give the Philippines 10 patrol vessels to strengthen its maritime defence capabilities.
The Beijing Youth Daily describes the Japan-Philippines co-operation as a "collusion against China".
Li Jinming, a professor of maritime law and South China Sea studies at Xiamen University, tells the China Daily that Japan is "trying to muddy the waters of the South China Sea, and Tokyo's military aid is clearly some sort of military expansion and build-up."
Yang Bojiang, an expert on Japanese studies at the Chinese Academy of Social Sciences, warns that the "transfer of military equipment" from Japan "warrants scrutiny" as Japan is "courting the Philippines for stronger military muscle to challenge China".
And finally, a high school student, who dropped out of the University of Hong Kong last year, has topped the National College Exam for the second time.
Liu Dingning, 19, from Liaoning Province was given a full scholarship to study at the university. However, she returned home after a month because she faced difficulty in adjusting to life in Hong Kong and study methods there, reports say.
This year, she got top marks in the exam again, and hopes to enter the prestigious Peking University in mainland China.
Ms Liu's story has sparked discussions in the media with many comparing the education system in Hong Kong and the mainland.
The Zhengzhou Evening News notes that the University of Hong Kong is ranked second in Asia, while Peking University is fifth.
"What makes one think that Peking University is better than University of Hong Kong in providing conducive learning environment?" the paper asks.
"The University of Hong Kong adopts an internationalised education model. Students who were trained under the exam-oriented system might need more time to adapt to such a teaching method."
BBC Monitoring reports and analyses news from TV, radio, web and print media around the world. For more reports from BBC Monitoring, click here. You can follow BBC Monitoring on Twitter and Facebook.