China media back Xi's pledge on drugs crackdown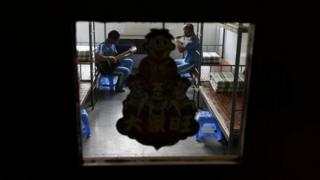 Media back President Xi Jinping's call to strictly control drug-related crimes in China.
Mr Xi on Wednesday pledged to crack down on drug-related crimes, reports say.
"Our country still faces serious challenges in banning drugs, which is an arduous and long-term task," says Mr Xi in a written instruction released on Wednesday ahead of the International Day against Drug Abuse and Illicit Trafficking which falls on 26 June.
He asked authorities to be aware of the dangers of drug use and urged them to take forceful measures to eliminate the problem.
The China Daily highlights the involvement of foreigners in China's illegal drug trade. It adds that the authorities arrested 1,963 foreigners last year.
"Due to high demand and the desire for profits, foreign drug gangs are active in southern China, including Guangdong and Yunnan provinces and the Guangxi Zhuang autonomous region," Liu Yuejin, director of China's narcotics control bureau, tells the daily.
Meanwhile, several media outlets note the rising trend of civil service officials taking drugs.
Sun Wenjie, a lawyer in Yunnan Province, tells the Beijing Youth Daily that some officials resort to taking drugs because they "lack in belief, feeling spiritually empty and swaying from their values".
He adds that these officials eventually turn to corruption because their salaries are usually not high enough to sustain their addiction.
An article in the Northeast Network calls for more measures to tackle drug addiction among officials.
"There is a problem in these officials' way of thinking when they become drug addicts. It also reflects a problem in the management of these officials. The state needs to start a massive campaign to ban drugs. It should not underestimate the danger of drugs, nor should it overestimate the moral value system that the officials hold," it says.
Diplomatic 'prank'
Elsewhere, media hail the "breakthrough" in cross-strait ties as a senior Chinese official visits Taiwan for bilateral talks.
Zhang Zhijun, chief of China's Taiwan Affairs Office, arrived in Taiwan on Wednesday for a four-day visit.
His trip follows unprecedented protests in Taiwan over a Cross-Strait Trade Pact in March. Protesters said the deal would increase Chinese influence and Taiwan's dependence on the mainland.
Zhang Wensheng, an expert on Taiwan affairs with Xiamen University, notes that Mr Zhang will spend more than half of his time in Taiwan interacting with the public in the eastern and southern part of the island.
"Taiwan is a diverse society, Mr Zhang needs to understand people from different social classes. He needs to listen to the people from lower and middle income groups to know their views on the current cross-strait relationship," he tells the Beijing Times.
And finally, media criticise the US decision to rename a street in Washington DC after a noted Chinese dissident.
According to reports, the street which hosts the Chinese embassy could be renamed after Liu Xiaobo, a Nobel Peace Prize laureate.
He is currently serving an 11-year sentence for subversion in China.
Describing the proposed amendment as a "prank", the Global Times' Chinese edition says that the action is "damaging" and "diplomatically filthy".
"Will China retaliate? This is an interesting question…We shall see how the US Department of State handles this hot issue. It is a farce that is worth watching. The Americans should know that China is not empty-handed. How Beijing will react will depend on the development of the situation, and also on our mood," it says.
BBC Monitoring reports and analyses news from TV, radio, web and print media around the world. For more reports from BBC Monitoring, click here. You can follow BBC Monitoring on Twitter and Facebook.