China boat sinks near disputed East China Sea islands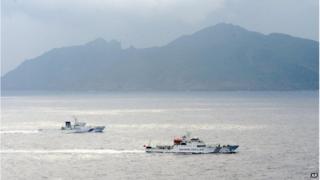 A fishing boat has sunk near a group of islands claimed by both China and Japan, Chinese media report.
Five men have been rescued and navy ships are searching for another five, said state news agency Xinhua.
The vessel sank near a group of islands in the East China Sea known as the Diaoyu islands in China and Senkaku islands in Japan.
A collision between two Japanese patrol boats and a Chinese trawler in the area in 2010 sparked a diplomatic row.
Xinhua said the latest incident happened around 09:00 (01:00 GMT). The cause is not yet known.
Japan's coast guard has reportedly sent a plane and a patrol boat.
The islands are close to important shipping lanes, offer rich fishing grounds and lie near potential oil and gas reserves.
They are also in a strategically significant position, amid rising competition between the US and China for military primacy in the Asia-Pacific region, correspondents say.
China is also locked in disputes with several countries in the region, including Vietnam and the Philippines, over claims in the South China Sea.
Last month, a Vietnamese fishing boat sank after it collided with a Chinese vessel near a controversial oil rig in the South China Sea. Vietnamese and Chinese patrol boats have been squaring off near the rig, which is placed in an area claimed by both countries.