Xi Jinping promises neighbours China soft power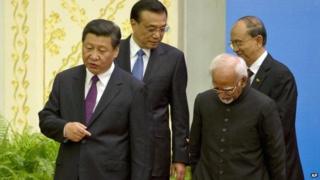 Chinese President Xi Jinping has said China will never seek to impose its will on other nations, no matter how strong it becomes.
Mr Xi was speaking in Beijing as he hosted leaders from India and Myanmar (Burma) for a weekend of talks.
Many of China's neighbours are embroiled in territorial disputes with Beijing.
They are concerned about China's growing military spending and what some see as its increasing assertiveness.
The speech came on the 60th anniversary of a mutual non-aggression and non-interference agreement signed with India and what was then Burma.
"China does not subscribe to the notion that a country is bound to seek hegemony when it grows in strength," he said.
"Hegemony or militarism is not in the genes of the Chinese. China will unswervingly pursue peaceful development because it is good for China, good for Asia and good for the world."
---
Analysis: Damian Grammaticas, BBC News, Beijing
With this speech, China's president had one clear goal: sending a message of reassurance to China's neighbours and other nations further afield watching this nation's rise, who wonder what sort of great power it may turn out to be.
The occasion he picked was a conference here in Beijing marking 60 years, he said, of peaceful co-existence with India and Myanmar. It's not in Chinese people's genes to seek to dominate or bully, to be militaristic, he said.
But whether President Xi's message works is another question. India, whose vice-president was here listening, has chunks of territory that China claims or controls but which India considers its own. In recent months we have seen clashes at sea between Chinese and Vietnamese ships, and tensions rising with Vietnam, the Philippines and Japan over maritime disputes, all with China.
However, much of President Xi's message seemed ultimately directed at the United States. He said what he called the law of the jungle was a thing of the past, where one nation sought to dominate international affairs. And he said he wanted a new security architecture for Asia.
But as China spends more and more on its military and seeks to expand its influence, its neighbours and the United States will look to what China does as much as to what China's president says.
---
And in what appeared to be a dig at the United States, he suggested that great power dominance was a thing of the past.
"The notion of dominating international affairs belongs to a different age, and such attempts are doomed to failure," he said.
"Flexing military muscles only reveals a lack of moral ground or vision, rather than reflecting one's strength."
He also called for "a new architecture of Asia-Pacific security".
China is locked in disputes with several neighbours over claims in the South China Sea, and is seeking to counter US attempts to increase its presence in Asia.