China media: Hong Kong referendum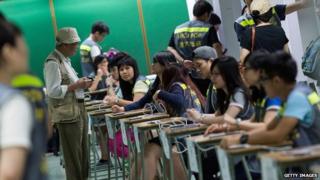 Media say that the central government "sincerely wants to advance democracy in Hong Kong", as hundreds of thousands vote in an unofficial referendum.
The 10-day poll was held by protest group Occupy Central. Campaigners want the former British colony to be able to elect its leader, or the chief executive.
China has pledged direct elections by 2017, but the public will only have a choice of candidates selected by a nominating committee
A Hong Kong government spokesman said the vote had no legal standing.
Reiterating the official stance, the China Daily stresses that Hong Kong is "a special administrative region of the country, and therefore does not have constitutional authority to hold a referendum".
"The central government has been sincere in advancing democracy in Hong Kong. The way forward is well outlined by the basic law and decisions of the National People's Congress Standing Committee. Any other propositions are not constitutionally viable," it says.
The Chinese edition of the Global Times observes that there are "extremists" calling for similar "Occupy Shenzhen or even Occupy Tiananmen" events.
"Though there is no evidence that such calls were made by protestors of Occupy Central, the Hong Kong public should see that some extreme views are trying to make use of the protest to mess up the whole country," it says.
It adds that "all mainlanders are willing to see that Hong Kong retains a political system that is different from that of the mainland. Nobody is wishing that Hong Kong will become like the mainland. Neither is this the policy of the central government".
Taiwan visit
Elsewhere, media cautiously report on the protests against a senior mainland official's visit to Taiwan.
The four-day visit by Zhang Zhijun, the chief of the mainland's Taiwan Affairs Office, to Taiwan ended on Saturday.
He had hoped to "listen to the views of Taiwanese from all sectors", but some of his meetings had to be cancelled due to violent protests, reports say.
Making no mention of the protests, a report by the China News Service says Mr Zhang received a "warm welcome" in Taiwan. But it adds that "Taiwan is a diverse society with different voices".
A Xinhua report notes that Mr Zhang received "a surprisingly warm reception from the people in the south of Taiwan".
"But before the meeting with Taiwanese official Wang Yu-chi, some pro-independence protestors created disruptions. This was something we did not expect," it says.
The Southern Metropolis daily notes that sporadic protests took place in Taiwan, but points out that such actions "do not represent the views of the majority in Taiwan".
Earlier in March, hundreds of Taiwanese students protested against a trade agreement which they said would hurt Taiwan's economy and leave it vulnerable to pressure from Beijing.
And finally, some media outlets dismiss the possibility of a "Beijing-Seoul alliance against Japan" as President Xi Jinping prepares for his trip to South Korea this week.
Wang Yiwei, an expert on international affairs at Renmin University, writes in the Global Times' Chinese edition that both countries are "irked by Japanese leaders' right-winged views", but "it is still unrealistic to expect an alliance to be formed against Tokyo".
"South Korea has insisted on separating historical problems from security issues… It does not wish to be torn between Beijing-Washington or Beijing-Tokyo. Moreover, its economy relies greatly on the US and Japan," he reminds in the article.
BBC Monitoring reports and analyses news from TV, radio, web and print media around the world. For more reports from BBC Monitoring, click here. You can follow BBC Monitoring on Twitter and Facebook.