Four charged over Kunming mass knife attack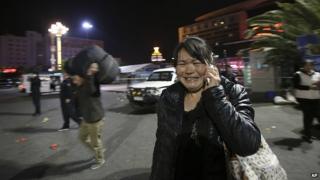 China has charged four people with murder and terrorism for a mass knife attack at Kunming railway station in which 29 people were killed.
Attackers armed with knives stabbed and slashed at people in the 1 March attack, injuring 140 others.
State media said four suspects were shot dead at the scene and four others arrested.
The attack was one of several recent incidents blamed on Uighur extremists from the western Xinjiang region.
The attack at Kunming station caused widespread shock in China. Eyewitnesses described attackers using curved swords and meat cleavers to stab people at random.
A report published by Xinhua news agency said Kunming investigators found that the suspects "were involved in organising, leading or taking part in the terrorist attack as well as intentional homicide", citing a statement from the Supreme People's Procuratorate.
No information was given about any trial date.
Uighurs are a Muslim ethnic minority who live in Xinjiang, which borders Central Asia.
---
Uighurs and Xinjiang
Uighurs are ethnically Turkic Muslims
They make up about 45% of the region's population; 40% are Han Chinese
China re-established control in 1949 after crushing short-lived state of East Turkestan
Since then, there has been large-scale immigration of Han Chinese
Uighurs fear erosion of traditional culture
---
Earlier this month, three Uighur men were sentenced to death over an incident in Tiananmen Square in which a car was driven into a crowd, leaving five people dead.
In May, several blasts at a market in the Xinjiang capital of Urumqi left at least 31 people dead.
Beijing says religious extremists, supported by overseas militants, are carrying out these attacks. Uighur exile groups accuse the authorities in Beijing of repressive rule in Xinjiang that has fuelled unrest.
In response to the recent escalation in violence, the government has promised a tough crackdown on extremists.
Earlier on Monday, state media said 113 people had received jail terms ranging from 10 years to life at the latest mass sentencing in Xinjiang. Offences were said to include terrorism, drug dealing and bigamy.
Thirteen people were also executed for terrorism and other violent crimes in Xinjiang last week, state media said.
Uighur exile groups have accused Chinese authorities of trampling on the rights of defendants and accusing those who oppose Chinese rule of extremism.
"It will only lead to extreme forms of resistance when people cannot protest peacefully," Dilxat Raxi, spokesman for the Uighur rights group World Uyghur Congress, said in a statement.