China media: Xi's Seoul visit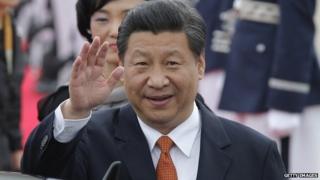 Media analyse Beijing-Seoul ties as Chinese President Xi Jinping arrives in South Korea on a two-day visit.
Mr Xi will hold talks with South Korean President Park Geun-hye on trade and "regional issues".
The People's Daily says that the Beijing-Seoul relationship is at its "historical best".
"At present, the bilateral relationship is developing well. Both are important partners in all sectors and they will hold frequent dialogue… Mr Xi's visit will further deepen the bilateral strategic partnership," it says.
The Global Times' Chinese edition notes that Japan and South Korea are both allies of the US, "but unlike Tokyo, Seoul is able to handle its relationship with both Washington and Beijing well".
"It is obvious that the US-Japan alliance is aimed at China, and Japan is willing to highlight this fact. However, Seoul is more willing to act as a buffer between Washington and Beijing, rather than taking opportunities to create friction between China and the US," it says.
Zhang Yunling, executive chairman of the China-South Korea Joint Expert Committee, tells the Beijing News that apart from trade, co-operation over political and security issues has also strengthened ties.
Mr Zhang says China has a special status in the region because it has established diplomatic relations with both North and South Korea, and is playing a balancing role.
"To some extent, Beijing and Seoul are easing regional tensions through strategic understanding and negotiations. Therefore, Mr Xi's trip to South Korea will gradually promote more political and security co-operation on the foundation of economic development," he tells the daily.
Act of bravery
Elsewhere, media give prominent coverage to the expulsion of several officials from the Communist Party as authorities step up their anti-corruption drive.
Ji Wenlin, former deputy governor of the island province of Hainan, has been accused of "taking huge bribes". He is also a former aide of Zhou Yongkang, China's retired chief of domestic security.
Yu Gang, a former deputy head of the general office of the party's Commission for Political and Legal Affairs, and Tan Hong, a former senior officer in the Ministry of Public Security, are also facing investigations over corruption.
The People's Daily writes on its Weibo (China's version of Twitter) account that the expulsion of the three officials took place with "lightning speed", saying netizens are "exhilarated upon hearing the news".
"Yu Gang and Tan Hong are officials in legal sectors. The regulators themselves cannot avoid being investigated," it says.
It warns that as the anti-graft effort gains momentum, the regulators will also be "watched".
Many officials have been arrested since Mr Xi began an anti-corruption campaign in 2012.
The president has warned that the Communist Party's very survival is threatened by corruption and has vowed to root out every corrupt official, whether "tigers" or "flies".
And finally, an act of courage by an eight-year old girl has become a subject of media debate.
According to China Youth Daily, an eight-year-old girl from Sichuan Province, in southwest China, drowned in a river while trying to save a friend.
The local government came up with a plan to honour the girl's memory by giving her the "Courageous Act For The Right Cause" title.
However, the government's application was rejected by legal authorities to discourage young children from following the girl's actions.
An article in the Beijing Youth Daily says it is rightful to discourage young children from following the girl's act, but the authorities are swinging to another extreme by refusing to acknowledge her bravery.
"The local government need not give great publicity to what the girl has done, but it can still recognise her effort," it says.
BBC Monitoring reports and analyses news from TV, radio, web and print media around the world. For more reports from BBC Monitoring, click here. You can follow BBC Monitoring on Twitter and Facebook.