China detains Tibetan writer during US official's visit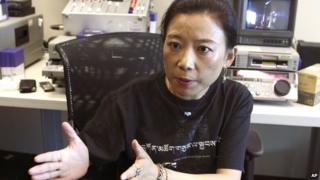 A prominent Tibetan writer has been put under house arrest by the Chinese authorities after being invited to the American embassy in Beijing.
The detention of Tsering Woeser comes during a visit to the city by US Secretary of State John Kerry, who is having talks with Chinese leaders.
Last year, the writer was named a winner of the US state department's International Women of Courage Award.
She has been detained with her husband, author Wang Lixiong, for two days.
'Clarion voice'
Tsering Woeser was held on Tuesday when she returned to her Beijing home with her husband from a trip to the north of China.
She said the security personnel who detained her had declined to say why she was being held.
But writing on her Facebook page, she said she believed it was because she had been invited to an official dinner at the US embassy.
The US secretary of state is currently in Beijing for annual discussions between Chinese and American leaders, talks known as the Strategic and Economic Dialogue.
It is not known whether Mr Kerry was due to attend the dinner, but he is an admirer of the Tibetan writer.
At last year's women of courage award ceremony, which the Chinese authorities banned Tsering Woeser from attending, he called her a clarion voice of the people.
"[She] has bravely documented the situation around her, and for her efforts she is now subject to constant surveillance," he said.
Mr Kerry said she spoke out for millions of Tibetans who could not do so themselves through her website, books and use of social media.
China routinely detains government critics without explanation before anniversaries, special events or visits by foreign dignitaries.