China media: Analysing Japan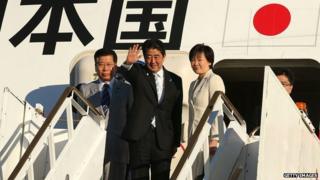 Media analyse regional politics as Japan and Australia forge closer ties, with some accusing Tokyo of trying to acquire allies in order to isolate Beijing.
Japanese PM Shinzo Abe made a two-day trip to Australia earlier this week and became the first Japanese leader to address the Australian parliament. Trade and security deals were sealed during the visit.
Noting that Japan and Australia have become "the best of friends", state-run Xinhua asks "who are they targeting during their 'honeymoon period'".
"By drawing Australia to his side, it is obvious that Mr Abe has the intention to contain China. Whether Canberra chooses to stand by Beijing or Tokyo, splitting Asia into two will benefit no one, and will not help to maintain peace, stability and prosperity in the region," says the agency.
The Global Times describes Australian PM Tony Abbott as being "short-sighted".
"Regardless of the signs that Japanese right-wing activists are regaining power, Abbott chose to compromise for the petty interests ahead… Canberra's pandering to an unleashed Japan will jeopardise the consensus developed by the international community for post-war order," warns the daily.
Echoing a similar sentiment, the overseas edition of the People's Daily slams Japan for "faking a peaceful image to avoid soul-searching".
"Japan, who refuses to repent, is putting on a show again. In Australia Mr Abe delivered a speech and hypocritically vowed never to repeat history. Such a stunt to win support and earn sympathy will never change the fact that Japan remains unrepentant," the paper exclaims.
US-China meeting
Media also focus on the two-day US-China Strategic and Economic Dialogue which started on Wednesday, with President Xi Jinping calling for mutual respect between the two countries as confrontation would be a "disaster".
The US delegation is led by Secretary of State John Kerry, who in his opening remarks said the US was not seeking to "contain" China.
The English-language China Daily points out that President Xi Jinping's presence at the dialogue and his "emphasis on the new type of major-country relationship" are "symbolic of the strong political will of Beijing".
"Mr Xi conveyed the essential message that at least Beijing is taking it seriously... The past 35 years of China-US interaction show the two countries do not have to stand against each other. More important, win-win scenarios have been abundant when they have joined hands," the paper says in its editorial.
An article in the Chinese edition of the Global Times, however, doubts Washington's sincerity despite Mr Kerry's assurance that the US is not seeking to contain China.
The paper says that China has been left out of the world's biggest free trade agreement in the region, the Trans-Pacific Partnership, and points out that the US is trying to "win over South East Asian countries and isolate China".
"We should judge people by their deeds, not just by their words. We really hope that the 'US conspiracy theory' is just a legend… But the most important thing [for the US] is to put words into actions," writes the Global Times.
BBC Monitoring reports and analyses news from TV, radio, web and print media around the world. For more reports from BBC Monitoring, click here. You can follow BBC Monitoring on Twitter and Facebook.