China media: Discussing foreign aid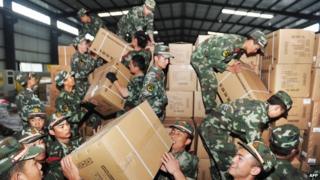 Media are defending China's foreign aid policy amid calls that the money could be spent on helping the country's poor.
On Thursday, the government released the China Foreign Aid white paper for 2014, revealing that Beijing has spent close to 90 bn yuan ($14 bn) on assistance abroad between 2010 to 2012.
State-run Xinhua news agency notes that there is discontent in society because of the large sums given to countries in Asia and Africa at a time when China has "close to 100 million of people living in poverty".
Xu Weizhong, a researcher with China Institute of Contemporary International Relations, explains that it is common practice that "economically stronger countries" are "obliged to help the ones that are comparatively poor".
The pundit recalls that China had previously received international aid which had "promoted economic and social development". "China is now giving back to the international community," he tells the agency.
The Global Times' Chinese edition describes the opposition to giving aid abroad as "typical nationalistic", and says such "narrow views" are not in line with the diplomacy of a big country.
"The rise of China does not happen in isolation, it is related to geo-politics and to other countries. China needs to pay for a good international environment. Providing foreign aid is not just simply aimed at helping the poor, but also a way to look after our own interests," the paper explains. It warns that the West might use the debate over foreign aid in China to "accuse Beijing of expansion and fighting over resources".
Experts, however, tell the English edition of the paper that a revamp of the foreign aid system is needed in order to "supervise the use of the money and assess their effect".
Pang Zhongying, an international relations expert at the Renmin University, predicts that China's foreign aid budget is set to expand but adds that aid "with no strings attached has become a double-edged sword".
"Now China is not able to supervise how its money is being used…The aid may not go to the people who are in need, but may breed corruption or even be used to purchase arms," he says, arguing that changes to the foreign aid system are necessary.
US-China relations
Media analyse China-US ties in the wake of the two-day US-China Strategic and Economic Dialogue which ended on Thursday.
The two-day key ministerial meeting was held in Beijing with the participation of US Secretary of State John Kerry.
Both countries have highlighted the resolve to forge a stronger cooperative partnership, reports say, noting that Washington "welcomes and wants a strong, prosperous and stable China".
"The fruits of this year's dialogue are very tangible and pragmatic… results on the economic track far outperform those in the strategic and security tracks. This shows that China and the US have entered into a new and mature relationship," Yang Xiyu, a researcher at the China Institute of International Studies, tells the China Daily.
Echoing similar sentiment, the Beijing News comments that the dialogue "is an important step forward in the construction of a new relation" between the two major powers.
"Though there are many dialogue mechanisms in place, there is still a lack of good communication on strategic issues. These issues are unavoidable and a deeper dialogue is necessary," the article concludes.
However, China Radio International feels that the US "does not prove with actions that it welcomes the rise of China".
It says on its website that there is "a wide perception gap" between the two countries, especially in the area of security. "In the past one year, Washington's actions can be interpreted as attempts to contain China," says the article.
"The US keeps building military alliances and tries to strengthen its hegemony in East Asia, ignoring the interests of China and encouraging neighbouring countries to provoke Beijing…This is not a positive response by Washington to the cooperative spirit that Beijing has displayed internationally," China Radio International comments.
Population growth
And finally, media discuss population trends months after the country relaxed its decades old "one-child policy".
According to the Beijing Youth Daily, as of 31 May, a total of 271,600 couples have applied for permission to give birth to a second child, out of 11 million couples who are eligible to do so.
China relaxed its one-child policy last December allowing couples to have two children if either parent is an only child.
In a press conference on Thursday, the National Health and Family Commission revealed that close to 90% of the applications have been approved.
One of its officials, Yang Wenzhuang, said that growth was "stable and will not result in a baby boom".
According to family planning expert He Yafu, the country needs more babies. "We should encourage more couples to give birth to children, as this will help to reverse the trend of an aging population," he tells the Global Times.
BBC Monitoring reports and analyses news from TV, radio, web and print media around the world. For more reports from BBC Monitoring, click here. You can follow BBC Monitoring on Twitter and Facebook.