China media: Brics summit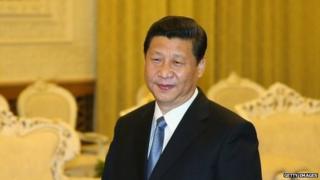 Media discuss China-Latin America ties as President Xi Jinping visits Brazil, Argentina, Venezuela and Cuba.
Mr Xi will attend the Brics summit between 15 and 17 July in Brazil before visiting other countries.
The Brics nations - Brazil, Russia, India, China and South Africa - are seen by experts as an economic counterweight to the Western countries.
An article in the Beijing Youth Daily states that the group of these emerging countries is "entering into a new phase".
"The co-operation does not mean that the Brics are forming another system in global economy to go against the West. It [BRICS] does not challenge the hegemony of the West, but wants to build an independent system - one that is helpful in constructing a new political world order," it says.
Noting Washington's "unease" over China's closer relations with Latin American nations, state-run China Net website notes that the US influence in the region has been on a "decline for a long time".
"The US has no time for Latin America because it is usually busy in the Middle-East, Asia Pacific and Europe. Although Washington wishes to win over the countries in the region, its influence is lacking because of China's co-operative projects which are for development purposes only and do not carry ideological factors," it says.
The Xinhua News agency believes some Western media outlets are "biased against developing countries" and have negative views about Brazil, Russia, India, China, and South Africa.
"Economic growth of some BRICS countries has slowed, so some people in the West think that it is a big problem. But they have forgotten that even if the speed of growth has slowed down, it is still twice the rate of the developed countries," Huang Wei, an expert on international affairs with the Chinese Academy of Social Sciences, tells the agency.
Fan Yongming, an expert on BRICS affairs with Fudan University, adds that "the bad-mouthing theory" is a "serious misjudgement" by the West because these emerging economies are on the path of recovery.
Green cars
Elsewhere, media outlets are welcoming a new government initiative to promote "green vehicles" in government departments.
According to the plan, green cars will account for at least 30% of the new purchases between 2014 to 2016 in every department.
Hu Enping, a public relations executive of Beijing Automobile Works's new energy car division, tells the Xinhua news agency that the new plan will boost consumers' confidence in using electric cars.
"Most consumers now worry about new energy vehicles' technological stability, mileage, and charging services. But the government's decision to buy such cars shows that these aspects have been greatly improved," he says.
The Beijing Times, however, points out that the plan to promote the electric cars should not just stop at "government taking the lead".
"More importantly, it is about having a policy that could shape the market environment that is suitable for such vehicles," it adds.
BBC Monitoring reports and analyses news from TV, radio, web and print media around the world. For more reports from BBC Monitoring, click here. You can follow BBC Monitoring on Twitter and Facebook.