China investigates Zhou Yongkang allies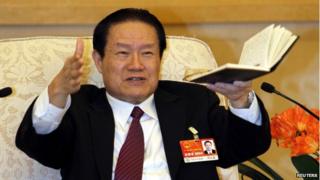 China's top prosecutor has begun criminal investigations into three top officials, two of whom are linked to ex-security tsar Zhou Yongkang.
In a statement, it said the trio, Li Dongsheng, Jiang Jiemin and Wang Yongchun, were accused of bribe-taking.
Mr Li and Mr Jiang were said to have been allies of Mr Zhou, China's once-powerful head of domestic security.
Mr Zhou is widely believed to be under investigation for corruption, although nothing has been formally confirmed.
A probe into the former Politburo Standing Committee member would mark the first time such a high-ranking figure had been targeted.
Mr Zhou retired in late 2012 after a career that saw him head both China's Ministry of Public Security and its largest energy company, China National Petroleum Corporation (CNPC).
Several individuals believed to have had close ties to him have been targeted for investigation in recent months.
Oil link
The three men named by the Supreme People's Procuratorate (SPP), the top prosecutor's office, were already known to be under scrutiny.
Mr Li, a former vice-minister for security, was sacked in February for "serious disciplinary violations".
An investigation into Mr Jiang, the head of the commission that oversees state-owned companies and a former head of CNPC, was announced in September 2013.
Mr Wang, a top official at CNPC and a reported ally of Mr Jiang, was placed under investigation in August 2013.
Chinese President Xi Jinping promised to crack down on corruption when he took power, warning that endemic graft threatened the survival of the Communist Party.
The news that yet more of Mr Zhou's associates are being formally investigated will be seen as the latest move to isolate him, reports the BBC's Martin Patience in Beijing.
Until two years ago he was one of the country's most powerful and feared politicians, but he has not been seen in public for months and is now believed to be under house arrest.
Speculation is growing that Mr Zhou will be the highest-ranked official to be charged as part of Mr Xi's crackdown.
Such a move would send shockwaves through the ruling elite, who are generally considered off-limits.
But it would also be taken as a sign that Mr Xi had consolidated power and was confident enough to take on opposing political factions, our correspondent adds.