China media: Abe in Latin America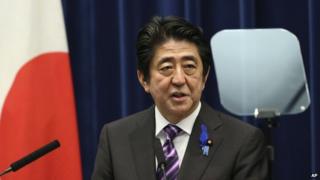 Media say Japanese PM Shinzo Abe is visiting Latin America to counter China's influence in the region and get support for a permanent seat in the UN Security Council.
According to reports, Mr Abe will begin his 11-day tour to Mexico, Trinidad and Tobago, Colombia, Chile and Brazil on Friday. His visit comes days after Mr Xi ended his Latin America trip.
A report in the Xinhua News agency says Mr Abe will seek support for Japan's bid to gain a permanent seat on the UN Security Council (UNSC).
Several media outlets predict that Mr Abe's attempt will be "fruitless". The Dongfang Daily notes that Mr Abe's trip has the "strategic intention to wrestle with China for influence in the region".
Describing Mr Abe's attempt as a "political show", a commentary in the Beijing News points out that even though Japan and the US are "still enjoying their honeymoon", Washington will not back Tokyo's UN bid.
The article notes that Japan hopes to "change its image of a defeated invader in World War Two" through a permanent seat at the UNSC.
"Although Washington has supported Tokyo ending its ban on collective self-defence, it will not oppose nor proclaim support for its UN bid," it says.
Echoing similar sentiments, a report in the Information Times recalls Japan has failed several times in its attempt to a get a permanent seat at the UNSC.
"In 2005, Japan launched a massive campaign to get a seat, but it encountered strong oppositions from neighbouring countries. In the near future, Tokyo's chance of winning the seat is even slimmer in light of the current [regional] situation," it says.
Latin America ties
Meanwhile, media hail "closer" China-Latin America ties as Mr Xi wraps up his four-nation tour to the region. He visited Brazil, Argentina, Venezuela and Cuba during the two-week trip.
"Mr Xi's trip is a fruitful one and even exceeds expectations. China has not only fostered closer diplomatic ties with these countries, it has inked many commercial contracts with them," says the People's Daily.
The paper adds that China and Latin America "highly complement" each other because these countries are looking for new avenues to export oil and Beijing is seeking more diverse sources for its energy imports.
Wu Baiyi, an expert on Latin American affairs with Chinese Academy of Social Sciences, notes that Mr Xi has "further reinforced the traditional friendship with these countries".
"Mr Xi has received a very warm welcome, which is unprecedented. In fact, our previous leaders did not even enjoy such love," the pundit tells the state-run China Development Gateway website.
And finally, media give prominent coverage to Wednesday's plane crash in Taiwan.
Forty-eight people are now known to have died after the TransAsia passenger plane crashed in Taiwan's Penghu archipelago, amid stormy weather in the area.
Zhang Zhijun, chief of mainland's Taiwan Affairs Office, has sent his sympathy to his counterpart Wang Yu-chi over the loss of lives, adding that China was willing to extend help if Taiwan requires it, reports say.
An article in Global Times' Chinese edition mourns the death of the victims. "It feels painful to know that so many compatriots have lost their lives," it says.
BBC Monitoring reports and analyses news from TV, radio, web and print media around the world. For more reports from BBC Monitoring, click here. You can follow BBC Monitoring on Twitter and Facebook.