China media: Japan-Latin America ties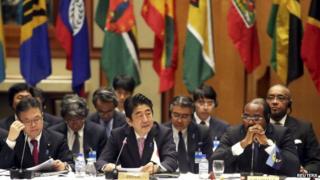 Chinese media are keeping a close watch on Japan-Latin America ties as PM Shinzo Abe visits the region.
Mr Abe started his 11-day tour to Mexico, Trinidad and Tobago, Colombia, Chile and Brazil last Friday, shortly after President Xi Jinping ended his Latin America trip.
According to experts interviewed by the Beijing News, the main purpose of Mr Abe's trip is aimed to drum up support for a permanent seat on the UN Security Council (UNSC) and to sign contracts on energy co-operation.
Feng Wei, an expert on Japanese affairs, says Tokyo will find it difficult to win the permanent seat, but "one should not overlook Mr Abe's diplomacy in the region".
"The Latin American countries still favour Japanese technology. So, this might win some support for Mr Abe," he says.
Dismissing Japan's influence, analyst Teng Jianqun says Tokyo "is still not qualified to be Beijing's competitor in Latin America" because China's influence on diplomacy and economics in the region "is much greater than Japan's".
Xu Shicheng, vice president of the Chinese Association for Latin American Studies, notes that Brazil and Japan are both seeking to permanent UNSC membership.
"Brazil is affected by China's decision of not supporting Japan, so the Brazilians might not be too happy with us over the issue. Despite that, it is unlikely that Brazil will side with Japan over the sensitive issue of South China Sea territorial disputes," he tells the Global Times' Chinese edition.
Tourism boost
Meanwhile, the number of Chinese tourists visiting Japan has increased despite escalating tensions between the two countries.
Papers note a report by the Japan National Tourism Organisation that says about one million Chinese tourists visited Japan in the first half of 2014.
The figures appear to have taken Chinese netizens who termed the tourists "unpatriotic" by surprise.
Explaining the upward trend, China Radio International points out that the weakening of the Japanese currency and travel promotions are some of the reasons that attract Chinese tourists.
Zhang Lingyun, an expert on tourism at Beijing Union University, tells the radio network that political relations between the two countries have not hurt non-governmental exchanges.
"Although the relationship between Beijing and Tokyo is not good, it does not endanger the safety of tourists nor affect people-to-people interactions," he says.
Echoing similar views, an article in the Haiwai Net notes that the news comes as China commemorates the 120th anniversary of the First Sino-Japanese war (1894-95), which marks China's first defeat in a war against Japan.
"Some net users immediately expressed anger and a feeling of heartache over the news… [However], heading to Japan for a summer holiday is an individual act and is not related to political motives," it says.
"With the Beijing-Tokyo relationship at its low point, we should view this news in a positive manner. Strengthening interactions among the people of both countries is the basis for better bilateral ties, which is also beneficial to China," it suggests.
BBC Monitoring reports and analyses news from TV, radio, web and print media around the world. For more reports from BBC Monitoring, click here. You can follow BBC Monitoring on Twitter and Facebook.