China bares its claws for 'caged tiger' Zhou Yongkang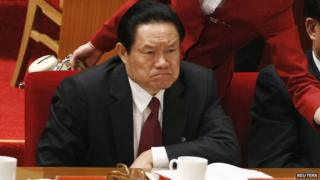 The Chinese Communist Party has announced an investigation into one of its most powerful politicians, the former security chief Zhou Yongkang.
In a move which signals President Xi Jinping's hard-fought victory in a battle for supremacy over the party high command, the Xinhua news agency says Mr Zhou is to be investigated for serious disciplinary violations, a shorthand for corruption.
"No matter how big the tiger, as long as it breaks the law… and violates party rules, that tiger will find it hard to escape the iron cage."
This was the verdict from the party's mouthpiece, the People's Daily, on news of the investigation into Zhou Yongkang.
But with his public disgrace, China's politics moves into uncharted territory. Mr Zhou is the most senior politician to be humiliated in this way in decades.
During the reform era of the past 35 years, there has been an unwritten pact that those arriving at the top do not attack those departing, an effort to avoid the political savagery of the Mao era.
Zhou Yongkang retired from running the powerful security apparatus at the same moment in 2012 when Xi Jinping was elevated to the Party leadership.
But with today's announcement of the investigation into Mr Zhou, President Xi has torn up the rulebook for top level Chinese politics, and other powerful veterans will worry that they might be next.
Disappearance from public eye
Zhou Yongkang rose from a poor family to become an oil engineer, accelerating through party ranks to run China's biggest oil company and then Sichuan, a province of 80 million.
He crowned his career with a seat at the party's top table, the Standing Committee of the Party Politburo.
Beyond his home village, he could never have claimed to be the most loved man in China, but until 2012, he could claim to be the most feared.
Today's announcement from China's official news agency gives no detail of the allegations against Mr Zhou.
But many observers believe his fate may have been sealed when his protege, Bo Xilai, fell from power as a result of a sensational scandal involving his wife's prosecution for the murder of a British businessman.
It was clear that Zhou Yongkang was in trouble when he disappeared from public view late last year.
In the intervening months, his name has gone unmentioned in state media but one after another his political allies, whether in the oil industry, in Sichuan province or in the security system, have fallen prey to an increasingly intense anti-corruption campaign.
Family members, drivers, bodyguards and proteges were caught up in the net. Today's announcement was only a matter of time.
'Tigers as well as flies'
China's one-party political system lacks the kind of electoral cycle which makes room for new people and new ideas and an anti-corruption campaign has often been a convenient means for a new leader to neutralise rivals and consolidate power.
But with today's public disgrace of such a senior figure, Xi Jinping is signalling that his campaign is different.
For years Communist Party leaders have warned that rampant corruption is the greatest threat to the party's survival. It is impossible to exaggerate the depth of public cynicism about China's political class. And the figures involved are staggering.
As the economy has surged, senior officials have plundered billions in public assets, many hiding their fortunes in offshore accounts and foreign assets.
Critics accuse Mr Xi of hypocrisy, observing that some in his own family have got rich in these years.
But his declared determination to tackle "the tigers as well as the flies" has won the president public popularity and signalled to the giant party and government bureaucracy that he is serious about tackling vested interests, especially those who might be minded to obstruct his planned economic reforms.
Many thousands of officials have already been investigated and there is no sign of the campaign losing steam.
The People's Daily said tonight: "The situation is still grim and complicated….Fighting corruption won't end. Taking out Zhou Yongkang is not the end. This is only one step, one stage. Whoever is corrupt will be punished."
For Xi Jinping this is an important personal victory. He has ended the uncertainty over whether he could land one of the biggest "tigers" of them all and prove himself the unchallenged strongman at the top.
But one comment on social media asked tonight whether Zhou really was "the king of the tigers or just any other tiger?" And many Chinese will speculate about the remaining "tigers" still at large, the former or current leaders shielding family members with corrupt business empires.
What's more, today's announcement does nothing to rescue the reputation of the Party itself.
And delivery of such a hugely significant political stroke in a terse one line statement on the official news agency and broadcast news serves to underline how little either the Chinese public or the world at large are permitted to know about the internal politics of the world's second-largest economy.