China media: Housing reforms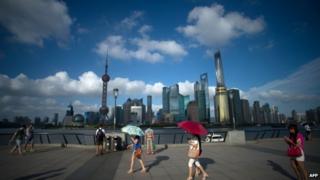 Papers welcome the announcement of reforms in China's household registration system.
Under the decades-old household registration system, known as hukou, everyone is registered in their home town or village and must access education, housing and welfare there.
As a result, many migrant workers are denied social security rights by their host cities and struggle to get their children into local schools.
The State Council of China announced on Wednesday that it would replace the hukou system with a more flexible "residence permit system" and planned to help about 100 million people without urban ID records settle in towns and cities by 2020, reports say.
Lu Jiehua, a sociology professor at Peking University, notes that while the authorities are "determined to change the status quo", their mission is "very difficult".
"With so many people moving to cities, paying for public services is a major problem… Providing quality healthcare, pensions, housing and education to all residents is the tricky part," he tells the Global Times.
Hoping that a fairer system will "gradually materialise" with the reform, the China Daily points out that the new urban dwellers will need job opportunities, housing, public utilities, social welfare and security to settle down in the cities.
"But the real gap in terms of social welfare between the two [between migrants and city residents] will take much longer to bridge," it admits.
It suggests that China should develop its smaller cities and towns to ease the pressure on big urban centres. Beijing should also look at creating new industries and businesses in smaller cities and towns, the paper adds.
The Beijing Youth Daily notes that smaller cities in China lack attractions as they do not have ample public infrastructure and services.
'Sex capital'
Moving on to other news, state-run media criticise the US for "creating a mess" in the Middle East.
According to reports in Chinese media outlets, the former US Secretary of State, Madeleine Albright, commented in a CBS TV programme that "the world is a mess" and the Americans do not want the US "to be the world's policeman".
"If the US does not want to be the world's policeman, then don't be," reads the title of an article in the Global Times' Chinese edition.
It notes the ongoing conflicts in various parts of the world and concludes that "it is not that Washington does not want the role, it is just that it does not have the energy to do so".
"From Afghanistan and Iraq, to Liberia and Syria, the West has been provoking wars and yet they are not able to clear up the mess," says a commentary in the People' Daily.
It criticises the US for opening "Pandora's box" in the region by "shielding Israel" and "interfering in Arab countries".
And finally, papers discuss whether the "sex capital" in southern China will return to its "old trade" after some entertainment venues reopened.
Police launched a crackdown on the rampant sex industry in Dongguan earlier this year.
After shutting down for almost half a year, 70% of the entertainment outlets including massage parlours and saunas had resumed business, Xinhua said, adding that these outlets had signed an agreement with the authorities to prevent "illegal management".
"Even if the entertainment industry in Dongguan goes into full operation, it will no longer regain the sensation of the fantasy-like and prosperous good old days," the Qianjiang Evening News predicts.
It explains that the cleaned-up environment will no longer be an attraction for pleasure-seekers, as no one "will buy an air ticket to come all the way just to sing a song or to wash their feet".
BBC Monitoring reports and analyses news from TV, radio, web and print media around the world. For more reports from BBC Monitoring, click here. You can follow BBC Monitoring on Twitter and Facebook.