'Suspects shot' in Xinjiang imam killing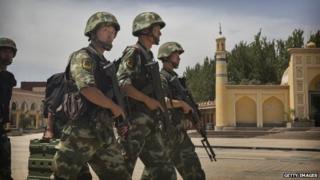 Police have shot dead two suspects in the killing of the imam of China's largest mosque and captured another, state media say.
Jume Tahir was the imam in Kashgar, in China's restive Xinjiang region.
He was found dead after morning prayers at the Id Kah mosque on Wednesday.
Police said the suspects, located shortly afterwards, "resisted arrest with knives and axes". They were "influenced by religious extremism", Xinhua news agency said.
Xinjiang, in China's far west, is home to the Muslim Uighur minority.
Tensions have rumbled for years between Uighurs and Beijing over large-scale Han Chinese migration and tight Chinese control.
In recent months, however, there has been a marked increase in Xinjiang-linked violence, including a market attack in the regional capital Urumqi that left more than 30 people dead.
Beijing blames these attacks on extremists inspired by overseas terror groups. Uighur activists say heavy-handed restrictions on religious and cultural freedoms are fuelling local resentment.
News of the imam's death emerged early on Thursday via foreign media but was only confirmed late in the day by official sources.
Xinhua said the suspects planned to "do something big" to increase their influence.
Mr Tahir, a Uighur, was a vocal and public supporter of Chinese policies in the region, says the BBC's Damian Grammaticas in Beijing.
He was appointed imam of the 600-year-old mosque by the ruling Communist Party.
Some say he was deeply unpopular among Uighurs who disliked the fact that he praised Communist Party policies while preaching in his mosque.
His killing came two days after dozens of people were reportedly killed or injured in clashes with police in Yarkant county, in the same prefecture.
Independently confirming reports from Xinjiang is difficult because access is restricted and information flow is tightly controlled.