China media: Smartphone restrictions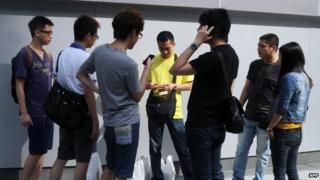 Media voice support for a new regulation that allows a crackdown on "illegal information" distributed via smartphone-based instant messaging services.
The State Internet Information Office announced the rule on Thursday. It will help authorities keep tabs on hugely popular services such as WeChat.
Under the regulation, Chinese users of instant messaging apps will have to register with their real names and seek approval before publishing political news.
The authorities claim the move is aimed at promoting the "healthy development of instant messaging services" and "safeguarding national security and public interests".
"It is necessary to have rules to regulate the information shared among smartphone users," the China Daily argues.
The paper states that open access on smartphones to "all sorts of information" might "facilitate the transmission of harmful messages, such as pornographic material or terrorist information".
"With their real names registered, people will be more aware that they are responsible for the information they send to others. And knowing the users' real names, service providers will be able to identify which of them break the rules by sending public information that is against the rules," the daily explains.
The Beijing Times assures its readers that the aim of the new ruling is "not to restrict freedom of speech but to protect in a better way the rights of citizens to lawful expression". It adds that the internet is "not a sphere that is out of the jurisdiction of the law" and that it is "necessary to formulate appropriate regulations" as new social network platforms appear.
Defending the regulation, Liu Ruisheng, a researcher at the Chinese Academy of Social Sciences, tells The Beijing Times that individuals will still be allowed to share messages with friends.
Meanwhile, the Global Times notes that several users who write about political and social affairs have called for "a clearer definition" of the rules, as many of them do not just post news but also analysis and comment on "hot topics".
Internet company Tencent tells the paper that it "will not conduct massive-scale shutdowns of current accounts", but urges operators to observe the rule or "they will be punished accordingly".
According to the Guangzhou Daily, Tencent deleted "nearly 3,000 articles and shut down more than 400 accounts" earlier this year during a crackdown on online rumours.
Regulating foreign companies
Elsewhere, media are discussing why foreign companies are "breaking the laws" in China.
Papers are saying that recent scandals involving foreign brands have sparked concern that international businesses are not abiding by Chinese regulations.
The Economic Information Daily, a paper under state-run Xinhua news agency, says that the authorities are now strengthening regulatory measures to "create a fairer market environment".
The daily explains that foreign companies used to enjoy "relaxed regulations", but the "double standard" situation is now changing. It quotes experts as saying that tougher measures should be taken against foreign brands in China to ensure that they "abide by the law" and that the rights of consumers and workers are better protected.
"The rules of the game in China's market will be changed. Whoever goes against Chinese law will become the next target of investigation", analyst Chen Gong tells the paper.
The authorities are not specifically targeting foreign companies, claims People's Daily and recalls that several Chinese firms have also been investigated.
And finally, only a handful of media outlets report that human rights lawyer Gao Zhisheng has been released.
Mr Gao, who was arrested in early 2009 after being accused of inciting subversion, was freed from prison on Thursday after spending three years behind bars.
Most media in China ignore the news of his release and a search on the popular Chinese search engine Baidu yields no results.
The Global Times, however, publishes a commentary in both English and Chinese criticising the West for glorifying the dissident and using him to "play political games with China".
"Many Western media labelled Gao a 'rights lawyer'… However, Gao is not well-known among the Chinese public, and there is little information about him on the Chinese Internet," the article claims.
"Being a so-called human rights star in the West doesn't give him immunity from China's rule of law. As for other dissidents, they should stop being that simple and naïve, laying their hopes on the West," the paper warns.
BBC Monitoring reports and analyses news from TV, radio, web and print media around the world. For more reports from BBC Monitoring, click here. You can follow BBC Monitoring on Twitter and Facebook.