China detains Xinjiang man for 'online rumours'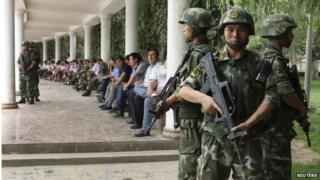 Chinese authorities have detained a man they accuse of spreading online rumours about recent violence in Xinjiang's Yarkant county.
Government outlet Tianshan News said the man wrote an "extremely unrealistic" account of the incident and "fabricated shocking details".
A total of 96 people died in the 28 July violence in Yarkant, China says.
On Sunday, state media said 18 suspects linked to the deadly incident had surrendered to police.
State media and overseas activists give different accounts of the July violence. It is difficult to independently confirm details of incidents in Xinjiang, because access and information flow are tightly controlled.
The region, in China's far west, borders Central Asia and is home to the Muslim Uighur minority group. It has seen an upsurge in violence in recent months, which Beijing blames on Uighur separatists.
'Bigger impact'
State media has called the clash in Yarkant, also known as Shache, a "terror attack".
Officials say the incident began when a group armed with knives and axes stormed a police station and government offices. Thirty-seven civilians were killed and 13 were injured. Police shot dead 59 attackers, they say.
But a Uighur rights group has claimed that police opened fire on people protesting against a Ramadan crackdown on Muslims.
Tianshan News said the arrested man was an unemployed Yarkant native currently living in the region's capital, Urumqi.
He allegedly circumvented internal censorship controls in China to send his account to overseas websites.
He had alleged that on 28 July police raided an event held by three Yarkant villages to celebrate the end of Ramadan, and killed villagers including women and children.
He claimed this sparked off retaliatory attacks leading to a clash with police that ended up killing between 3,000 and 5,000 people, according to Tianshan News.
The man allegedly confessed to making up details and inflating the death toll to "create a bigger impact online" and "to get other people's attention", the government-run portal added.
Imam killed
Meanwhile, state news agency Xinhua said 18 people surrendered to the police in Yarkant after authorities launched a campaign encouraging the public to expose those involved in the violence.
It quoted a local official as saying that few of the 18 were "diehard terrorists", and many of them had been "cheated or coerced into joining the attack".
The Germany-based World Uyghur Congress activist body said the suspects surrendered because they were being pursued by armed police and feared for their lives.
The police have already arrested 215 people in connection with the violence, local authorities say.
In recent months there has been an upsurge in Xinjiang-linked violence including public attacks in Urumqi and elsewhere in China such as Kunming and Beijing.
In the days following the Yarkant incident, the pro-Beijing imam of China's largest mosque in Kashgar city was killed.
In response to the upsurge Chinese authorities have launched a year-long security campaign which includes increased police and troop presence in key cities and towns in Xinjiang.
Dozens of people have been detained and jailed for alleged extremist offences, some in public mass sentencing sessions.
But Uighur activists and rights groups say an increasingly oppressive Chinese clampdown on Uighurs' religious and cultural affairs is further fanning resentment.
China, meanwhile, says it is investing heavily in the region to improve people's lives and attributes Xinjiang violence to "terrorists" inspired by overseas Islamist groups.