China media: Media reforms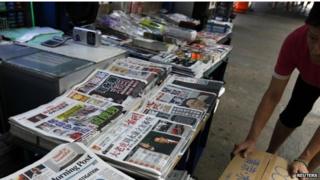 Papers shine a spotlight on President Xi Jinping's call for the nation to "integrate traditional and new media to diversify its communication system".
Mr Xi has pledged to build "several new media groups that will be strong, influential and credible".
Observers have noted that traditional media outlets including state-run papers and TV stations are losing their audience to new media platforms.
Several papers note that this is the first time Mr Xi has spoken about the integration of traditional and new media outlets.
"It is very significant that the president urged publicity officials to intensify their 'internet thinking'. Such remarks indicate that the top leaders are fully aware of new trends in the media industry," Chen Lidan, a journalism professor at Renmin University, tells the China Daily.
Ma Xiaolin, a veteran journalist and commentator in Beijing, adds that Mr Xi "aims to set up an entirely connected media network that will be able to best serve the public interest".
An article in the Haiwai Net noted that the announcement was not a "sudden move".
"Mr Xi's speech did not appear out of the blue. In the past 20 years, he has been writing on media issues," it says.
The commentary notes that the mainstream media have become marginalised and have not been able to steer public opinion.
"The current leadership has strengthened its supervision of traditional media. On the other hand, it is pinning down on illegal internet news and even set up new regulations to control information on new media tools such as WeChat messaging service. Hence, it is not difficult to understand the intention of the top leaders," says an article in the Shanghai Securities Times.
The article predicts that more resources will be pumped into bigger state media outlets like Xinhua, CCTV and People's Daily, while other non-state new media groups will be encouraged to "build closer relations" with their state-run counterparts.
Ferguson unrest
Elsewhere, some papers comment on the problem of racism in the US amid the ongoing unrest in Ferguson following the fatal police shooting of an unarmed black teenager.
The Global Times observes that "racism still overshadows minorities in the US even while they have got a black president".
"The US employs a fairly tough approach of pushing African-Americans to integrate into the mainstream society at the cost of destroying their original cultures," the paper notes.
"More ironically, the US, which keeps trying to assimilate minorities in a barbaric way, never ceases to point fingers at China on minority rights," it adds.
BBC Monitoring reports and analyses news from TV, radio, web and print media around the world. For more reports from BBC Monitoring, click here. You can follow BBC Monitoring on Twitter and Facebook.