Chinese coal mine explosion kills two, traps 25 miners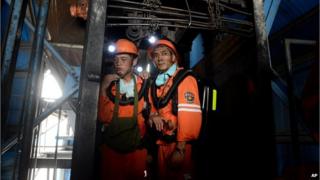 An explosion in a Chinese coal mine has killed two workers and trapped 25 others underground, according to state media.
The blast at the privately-owned mine in Huainan city resulted in part of a tunnel collapsing, trapping workers.
Twelve others were rescued. The cause of the blast is being investigated.
State-run news agency Xinhua said that the Dongfang Coal Mine had ignored a local government order to suspend production due to the flood season.
China Central Television said that most of the miners trapped underground were in their 40s.
This is the second incident at a Chinese mine in less than a week. On Thursday, a coal mine flooded in Jixi city in Heilongjiang province in China's northeast, trapping 25 workers.
Nine miners were pulled out the following day, while 13 are still missing. Three bodies have been found at the site.
China has the world's deadliest mines, although its safety record has shown signs of improvement in recent years due to more stringent enforcement of safety legislation.