Hong Kong's battle for hearts and minds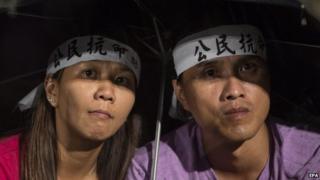 The Chinese government has clearly decided that facing down a campaign of civil disobedience in the short term is preferable to allowing Hong Kong the kind of political process which might create meaningful challenges to its own authority in the long term.
Sunday's announcement from Beijing leaves no room for compromise with Hong Kong's democratic forces.
Far from allowing a more open nomination process for leadership candidates, the Standing Committee of the National People's Congress has declared that all candidates must secure more than 50% support from a "broadly representative" nominating body.
In some ways this seems even more restrictive than existing arrangements, and is unlikely to be endorsed by Hong Kong's Legislative Council.
But Chinese officials insist Hong Kong's chief executive must be subordinate to Beijing and that open nominations for the post would create a "chaotic society".
The chief executive has to be a person "who loves the country and loves Hong Kong" in the words of the NPC decision.
Wider picture
Hong Kong's democracy activists have responded with predictable dismay, complaining that such a process would not provide the "genuine choice" which they understand by the term universal suffrage.
They warn that the long threatened occupation of the business district will now go ahead.
Beijing's uncompromising stance on Hong Kong is part of a wider political picture.
Under the leadership of Xi Jinping, China itself has moved further against any suggestion of democratic reform, the Communist Party ever more jealously entrenching its own monopoly on power.
Hong Kong is the only place where Chinese citizens can criticise the one party-state or commemorate the Tiananmen democracy protests of 1989.
Free speech and freedom of assembly in the former British colony already stretch Beijing's patience, and - although it does not wish to renege from the promise of direct elections for the next chief executive of Hong Kong in 2017 - it is not prepared to risk the emergence of a leader who might confront its own interests outright.
It is not lost on Hong Kong's political community that in another former European colony, next door Macau, the sole candidate and existing leader was re-elected at the weekend by a panel dominated by China loyalists.
This is the way the Chinese government prefers to do its politics.
And while it espouses market competition in some areas of the economy, it wishes to send a message throughout China that no such principle should apply in politics.
'Step forward'
A familiar defensive and xenophobic strain is emerging in the Chinese narrative surrounding the Hong Kong issue.
An article in the Communist People's Daily on Saturday said that some in Hong Kong were colluding with outside forces.
"Not only are they undermining Hong Kong's stability and development, but they're also attempting to turn Hong Kong into a bridgehead for subverting and infiltrating the Chinese mainland."
It's hard to assess how many people in Hong Kong or elsewhere in China actually believe this. Many argue instead that Hong Kong's success has been built on its cosmopolitan society and international focus.
The Hong Kong government has thrown in its lot with Beijing.
In a report in July, Chief Executive Leung Chun-ying said "mainstream Hong Kong society" agreed with Beijing on how electoral reform should proceed and he greeted Sunday's NPC decision as a "major step forward in the development of Hong Kong's society".
In the opposing camp, the Occupy Central movement has warned that it can mobilise 10,000 people for its sit-in protest.
The battle for hearts and minds will now begin in earnest.
By refusing to trust the voters of Hong Kong to make free choices, Beijing may now have triggered the emergence of the "chaotic society" it was so keen to avoid.