China website editors 'held for extortion'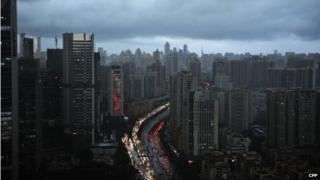 Top staff of a business news website have been arrested for extorting money from companies, Chinese state media say.
Eight people from the 21st Century financial news website and public relations firms were being investigated, Xinhua news agency said.
They had accepted money in exchange for positive news and had attacked those who did not co-operate, it said.
China has been conducting a crackdown on corruption in recent months.
A description on the 21st Century website says it is part of the 21st Century Media group, which owns the popular 21st Century Business Herald national newspaper.
The group is owned by Guangdong Nanfang Media, which in turn is owned by the Guangdong provincial government, according to the AFP news agency.
Xinhua said that the website's editor-in-chief, surnamed Liu, and a deputy editor surnamed Zhou, as well as staff in the editorial and business departments, were working with two public relations companies to collect bribes.
The two firms were named by South China Morning Post as Shanghai-based Roya Investment Services and Shenzhen-based Nukirin.
The suspects targeted various companies, including well-known ones, to demand high fees in return for "positive publicity", said Xinhua.
They did this by "exaggerating facts or obscuring problems" about the companies.
If a company they approached did not co-operate, the suspects would blackmail the firm.
They would threaten to carry out "evil attacks" using reports on the website to pressure the company to buy advertisements or sign agreements which would enable them to collect high fees or commissions, said Xinhua.
Initial investigations showed that the case involved "dozens of companies" based in Shanghai, Beijing and Guangdong.
A brief statement on 21st Century confirmed that several staff had been detained by authorities for investigation on Wednesday night.
"21st Century is willingly co-operating with authorities in their investigations. While we await the outcome, 21st Century will continue to professionally and objectively serve our readers, and responsibly handle related matters," it said.
Correspondents say that corruption is common in Chinese state media, with some journalists regularly accepting payments in return for flattering coverage.
Last month top Chinese journalist Rui Chenggang and a senior CCTV executive were detained in an investigation said to be related to an ongoing crackdown on corruption in CCTV.
The host of a popular business programme is one of the most high-profile journalists to have been arrested thus far.
Under President Xi Jinping, who has vowed to make stamping out corruption a priority, the Chinese authorities have clamped down on suspects in various sectors in recent months.
By far the biggest target is former security chief Zhou Yongkang.
The announcement in July that he was being probed for disciplinary violations was the culmination of a tightening dragnet where prominent people in his circle were, one by one, detained or investigated for suspected graft.