Hong Kong democracy activists shave heads in protest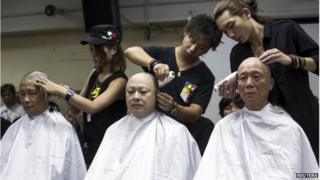 Pro-democracy activists in Hong Kong have shaved their heads in a protest over what they see as China's growing political control over the city.
Forty people, including the founders of the Occupy Central movement, had their hair cut off in a church hall.
A minor scuffle reportedly broke out when China supporters showed up.
The activists were protesting against Beijing's recent announcement that open nomination will be ruled out for Hong Kong's next leadership election.
On Tuesday, dozens of campaigners packed the church hall to witness the head-shaving.
Among them were the three founders of civil disobedience movement Occupy Central - Benny Tai, Chu Yiu-ming and Chan Kin-man.
Mr Tai told reporters the act was meant to symbolise that the movement would make no concessions to Beijing's ruling.
"It is our determination to show we can give something up in order to fight for something more important," he said.
'Radical elements'
News agencies reported that a small scuffle broke out when several pro-Beijing supporters arrived and heckled the activists.
Reuters said about five people wearing caps, medical masks and sunglasses charged into the hall, chanting slogans denouncing Occupy Central.
One person was sent to the hospital following the scuffle. The police arrested at least one person.
Tuesday's protest follow an announcement over the weekend by student groups that they planned to boycott classes for a week from 22 September.
Pro-Beijing activists have since set up a hotline to expose the names of schools where class boycotts are being organised, prompting accusations that they were creating "white terror" political repression, reports the South China Morning Post.
China's state-run Global Times newspaper said the "radical elements of the democrats" were "manipulating the radical students behind the scene" and that they had a clear intent "to mess up Hong Kong".
The issue of how Hong Kong should choose its next leader has gripped the territory in recent months, triggering several protests and large-scale rallies from both pro-democracy and pro-Beijing camps.
China said last week that while Hong Kong would be free to vote in their chief executive in 2017, all candidates would have to be vetted by a pro-Beijing nominating committee.
The announcement sparked anger among pro-democracy activists who staged fresh demonstrations.
Occupy Central has since vowed to proceed with a massive sit-in in the main financial district, though it has not yet said when that would take place.