Four sentenced in China over Kunming station attack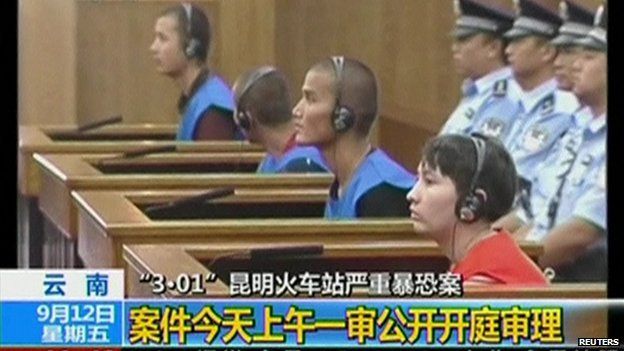 Three people have been sentenced to death for a deadly mass knife attack in Kunming, with a fourth jailed for life, Chinese state TV says.
The group were accused of organising the 1 March attack at a Kunming station that killed 31 people and injured 141.
The Chinese government blamed Islamic extremists from the western region of Xinjiang for the assault.
The one-day trial took place as Beijing vowed to fast-track prosecution of terror suspects especially in Xinjiang.
China has stepped up security after a series of recent attacks attributed to Muslim Uighurs from the region, which borders Central Asia.
In a statement, the Kunming court said eight people organised the attack, of whom four were shot dead at the scene.
Three of the suspects on trial, Iskandar Ehet, Turgun Tohtunyaz, and Hasayn Muhammad, were accused of "leading and organising a terror group, and intentional homicide".
They did not take part in the attack as they were arrested two days before it trying to leave the country, it said.
The fourth person, a woman called Patigul Tohti, was accused of "taking part in a terror group and intentional homicide".
After the three men were arrested, she and the four dead suspects carried out the attack on the evening of 1 March, stabbing commuters and passers-by, the court said.
The trial opened on Friday morning, with the sentences delivered in the late afternoon. The three men were sentenced to death while Patigul Tohti was given life imprisonment, according to CCTV.
Uighurs are ethnically Turkic Muslims
They make up about 45% of the region's population; 40% are Han Chinese
China re-established control in 1949 after crushing short-lived state of East Turkestan
Since then, there was large-scale immigration of Han Chinese
Uighurs fear erosion of traditional culture
China has seen a series of deadly attacks in Xinjiang and elsewhere which it blames on Uighur separatists.
Two have taken place in Xinjiang's capital, Urumqi, at a market and railway station, while another took place in Beijing's Tiananmen Square.
Most recently, violence left 96 people dead in Xinjiang's Yarkant. State media say it was a "terror attack" but activists say police opened fire on people protesting against a Ramadan crackdown on Muslims.
In response to these incidents Chinese authorities have launched a year-long security campaign, with scores of people arrested and jailed.
On Thursday state news agency Xinhua reported prosecutors were seeking to fast-track cases involving terror suspects, religious extremists, and manufacturers of firearms and explosives.
Courts in Xinjiang were also being instructed to speed up trials of terror cases and "deliver exemplary penalties".
But a rights group criticised the move. "There is so little information coming out of Xinjiang on how suspects are treated. The potential for abuse is great," said Maya Wang of Human Rights Watch.
Confirming reports out of Xinjiang is difficult because both access and the flow of information are tightly controlled.
Uighur activists say the suppression of Uighurs' cultural and religious freedoms is fuelling unrest in the region and attacks elsewhere in China.
Chinese authorities argue that they are pumping investment into Xinjiang to improve people's lives, and said that "terrorists" in the area have been inspired by overseas Islamist groups.