China tennis star Li Na announces retirement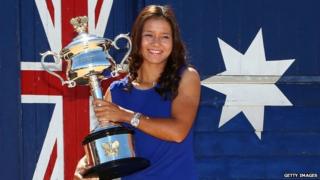 China's Li Na has announced her retirement from tennis at the age of 32, citing injury problems.
Li, who has taken both the French and Australian Open titles, made the widely expected announcement in a statement on social media.
After four knee surgeries, "my body is begging me to stop the pounding", the tennis star wrote.
The Chinese Tennis Association thanked her for the "shining moments" she had given to the sport.
Li is one of China's most high-profile athletes and a national hero.
She is well-known for her outspoken independence, her humour and her reluctance to embrace the state-run training system.
She won the Australian Open in January to add to her 2011 French Open title, but the world number six has not played since losing in the third round at Wimbledon in June.
In a letter posted on Facebook, Li said that making the decision to retire had taken "several agonising months".
"Representing China on the tennis court was an extraordinary privilege and a true honour," she wrote.
"Having the unique opportunity to effectively bring more attention to the sport of tennis in China and all over Asia is something I will cherish forever.
"But in sport, just like in life, all great things must come to an end."
'Sister Na'
The Women's Tennis Association (WTA) called Li a "pioneer" in tennis.
"Li Na has been a fun, powerful, and wonderful player on the WTA tour and, along with her fans, I am sad to hear that she has retired,'' WTA chief executive Stacey Allaster said in a statement.
"In addition to her amazing tennis abilities and her warm and humorous personality, she is a pioneer who opened doors to tennis for hundreds of millions of people throughout China and Asia. Her legacy is immense and I have no doubt that her contributions to the WTA will be seen for decades to come.''
On China's microblog service Weibo, tens of thousands of Chinese fans inundated Li's page with positive comments.
Many thanked her for representing the country and wished her well, often using an affectionate term for Li. "Good luck Sister Na!" and "Go Sister Na!" were among the more common comments.
"You once said that all you wanted to do is just play tennis, but in reality because of you, so many people have begun to understand what tennis is really about... I sincerely wish you the best. Thank you for guiding and encouraging us," said one user.
"She never boasts of her patriotism, because all along she has been quietly doing things for this country that are greater than what you and I have ever done... she has refused to flatter others, but now she has expressed her deepest thoughts. I am deeply moved by her discipline and honesty," said another user.