Li Na: China's trailblazing tennis star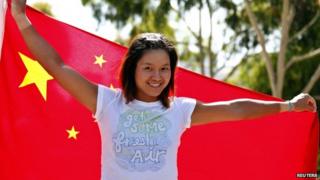 Li Na, the Chinese tennis ace, announced her retirement today.
Addressing her friends and fans in English and Chinese, she cited her knee injury as the main reason.
"At 32, I will not be able to compete at the top level ever again. The sport is just too competitive, too good, to not be 100%," she said.
This brings to an end a glittering career which saw Li becoming the first and still the only Asian woman to win a Grand Slam title when she lifted the French Open trophy in 2011.
She followed that with an Australia Open victory in 2014, earning her the career-high singles ranking of world number two.
Playing with speed and power on the court and charming the audience off it, Li will be remembered by millions in China and around the world as much for her personal charisma, straight-talking and sense of humour as for her tennis skills.
She is a rare example of a sporting star from China who appeals to an audience far beyond the national borders.
Flying solo
Born in the city of Wuhan in central China in 1982, Li Na started to play tennis at the age of eight and rose through the ranks quickly.
She turned professional in 1999 and was trained in the Chinese elite system referred to as juguo tizhi (whole nation system), which picks young talents and turns them into gold medal potentials on the international stage through rigorous training and total control.
Li was a key player in the national team, but according to Chinese press reports, she was unhappy with the coaching. She also said financial rewards should be linked to the performance of the players.
After the Beijing Olympic Games in 2008, Li made a life-changing decision; she left the national team with three teammates in 2009 and embarked on a different route to success, or "flying solo", as is known in Chinese.
It meant she was free to hire her own coaches, make her own arrangements for training and competitions, and look after her own finances, keeping more prize money for herself.
It was considered a risky move; Li Na and her husband Jiang Shan prepared for the worst-case scenario - with all savings spent but going nowhere.
But the decision paid off.
In 2010, Li reached the semi-final stage of Australian Open, and also clinched a spot in the top 10 in the rankings. She became a much tougher player, eventually winning the French Open in 2011.
While the achievement won her plaudits in China and around the globe, her straight-talking got her into trouble with the Chinese sporting establishment and sections of the media.
At the press conference after her Paris triumph in 2011, she thanked her team, her sponsors and organisers, but didn't thank or mention the motherland, which is unusual for a Chinese sporting star.
Li Na: A Chinese trailblazer
Li was hand-picked to train in China's Soviet-style sports system aged nine
She was initially identified as a badminton player before being moved into tennis
After giving up the game to study at university, she returned to the tour in 2004 and won her first WTA title in Guangzhou
Li became the first Chinese to reach a Grand Slam quarter-final, at Wimbledon in 2006
She entered the world's top 10 in 2010 after reaching the 2009 US Open quarter-final and 2010 Australian Open semi-final
Reached her first Grand Slam singles final at the 2011 Australian Open, losing to Kim Clijsters
Beat Francesca Schiavone to win the 2011 French Open at the age of 29
Won her second Grand Slam title by beating Dominika Cibulkova at the 2014 Australian Open
'How to behave'
A year after that, at another press conference, Li said that she did not play tennis for her country but tried her best to do a good job.
Those remarks backfired. Some people in China pointed out to her that she owed the country for her achievements and said she was not patriotic.
But others came to her defence, saying that she was a tennis player after all, and there was no point thanking the country when she needed to win prize money for the team that supports her.
In 2013, Li crashed out of Wimbledon at the final-eight stage. Before the match, she was asked by a Chinese journalist if she felt the pressure of representing the country, and she retorted: "Why should I feel the pressure of that?"
The official newspaper of the Communist Party, the People's Daily, took up the issue, warning Li that sporting stars should not let their individuality flourish without restraint; Xinhua pointed out that Li Na's quotes tended to hurt others.
Not everybody agreed though. In a widely-circulated online article entitled "People's Daily is not qualified to teach Li Na how to behave", the author pointed out that as soon as somebody challenges the Chinese sporting system, it attracts all sort of criticism.
Another well-known blogger Li Chengpeng went further: "Even the leader of the country can't say they can really take the responsibilities of a nation on their shoulders, why should a sporting star do so? The best act of patriotism is to win competitions, not shouting slogans."
Sporting legacy
"In 2008, there were two professional women's tennis tournaments in China. Today, there are 10, one of them in Wuhan, my hometown. That to me is extraordinary."
Li proudly wrote that in her open letter announcing her retirement, and there is no question that she is rightly credited with making tennis much more popular in China.
She has spoken to BBC Chinese many times. In June 2013, our reporter asked her if controversies outside the courts affect players' performances, to which Li Na replied:
"You can't always pay a lot of attention to what others say about you. It all depends on how you perceive things."
This single-mindedness might explain why she has fought off so many adversaries and controversies in her career to achieve recognition in the tennis world and to win the hearts of so many fans.
Now the world might wait for a long time before we see another sporting star from China like Li Na.