China fireworks factory blast kills 12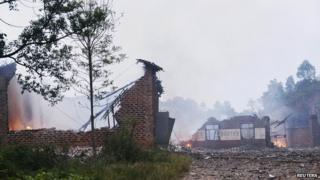 An explosion at a fireworks factory in China has killed at least 12 people and injured 33 others, local government officials say.
The blast struck the Nanyang Export Fireworks Factory in the city of Liling in Hunan province.
Another two people were missing following Monday's blast.
Officials did not say what caused the explosion, but said the factory was properly licensed.
The blast left surrounding areas scattered with debris and glass shards from broken windows of nearby houses, Xinhua news agency said.
China's fireworks industry suffers from lax controls and there have been a number of deadly incidents in recent years.
Last year, an explosion at fireworks factory in Guangxi killed 11 people and injured 17 others.
An accident in February 2013 also saw a truck carrying fireworks explode on an elevated highway in Henan province, killing at least five people and causing part of the road to collapse.