Top China official Liu Tienan in bribery trial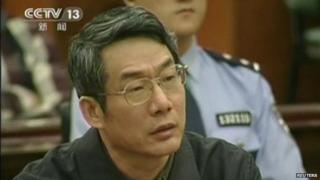 Liu Tienan, a former top economic official, has gone on trial for accepting millions of dollars in bribes, Chinese officials say.
Mr Liu was the National Development and Reform Commission deputy head until he was sacked in August 2013.
He is accused of accepting about 35.6 million yuan (£3.5m, $5.8m) together with his son, Liu Decheng, in return for favours granted to businesses.
China has been embarking on a drive to stamp out corruption among officials.
Prosecutors are seeking life imprisonment for Mr Liu.
Mr Liu confessed to the charges, breaking off at one point to "sob painfully", according to a transcript put out by the Langfang City Intermediate Court on its Weibo account.
His statement included a lengthy apology. "I have let down my responsibilities and the commission, and lost the trust of bosses and colleagues. I deeply regret my actions," he said.
In another statement on the charges, the court said that between 2002 and 2012, Liu Tienan is accused of using his senior positions in the commission and other agencies to benefit five companies.
They include the Nanshan Group based in Shandong province, which owns several aluminium factories as well as a golf club, wine company, and schools.
Mr Liu is said to have helped the company easily procure oxidised aluminium, as well as approving and facilitated several projects for other businesses including a car dealership and petrochemical plant.
He and his son are said to have received cash gifts in return. In addition Mr Liu was given a Nissan Teana, while his son received a Beijing villa and a Porsche, prosecutors said.
His case is unusual in that allegations against him first came from a Chinese journalist. Investigative journalism that directly leads to prosecution of suspects is rare in China.
President Xi Jinping has vowed to root out corruption, calling it a crackdown on "tigers" and "flies" - a reference to top and lower-level officials.
One of the biggest hauls so far is China's former security chief Zhou Yongkang, who is being investigated for disciplinary violations.