Hong Kong protests: What else is driving mainland tensions?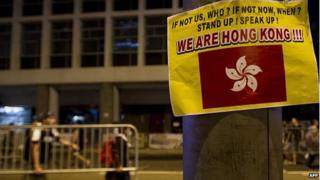 While Hong Kong protesters are angry about Beijing's stance on electoral reform, other issues have led to tensions with the mainland.
Business and trade have benefited from a closer relationship since the handover. But there is rumbling discontent about the number of mainland Chinese coming to Hong Kong and competing for resources.
The BBC takes a look at the tensions.
Birth tourism
Mainland Chinese babies born in Hong Kong have the right to live and work there, as well as the right to a Hong Kong passport. The years after handover saw increasing numbers of Chinese women giving birth in the territory.
Almost half of all babies born in Hong Kong in 2010 were the children of mainland couples, according to government figures.
After food safety scandals in China, mainlanders also went to Hong Kong to bulk-buy infant formula perceived to be safer.
But the competition for hospital beds, medical resources and infant formula caused outrage -there was a shortage in the territory last year.
Families have also protested about a lack of places in schools because of Chinese families who send their children across the border to be educated in Hong Kong.
In 2012, public anger peaked with a full-page advertisement taken out in a popular tabloid calling for a stop to "locusts" in Hong Kong - referring to mainlanders.
The Hong Kong government has since stepped in to limit the numbers of mainland Chinese giving birth in the city as well the amount of milk formula that can be taken into the mainland.
A clash of cultures
Hong Kong residents have taken particular umbrage at what they see as anti-social behaviour on the part of mainland Chinese. There has also been anger directed at tourists - some of whom come from rural areas - who are seen by many as uncivilised.
Clips of mainlanders on Hong Kong's MTR subway system eating food or fighting with local commuters have periodically surfaced online, sparking public anger.
One of the latest incidents took place in April, when a mainland couple allowed their toddler to urinate by a busy street, resulting in a fight with Hong Kong passers-by.
Shopping sprees
Hong Kong is known as a shopper's paradise with no sales tax, making it a favourite destination among rich mainland tourists hungry for luxury goods.
Some Hong Kong residents believe that these mainlander shoppers are getting special treatment and there are overtones of distaste about the wealth on display.
Another concern is that the rise of luxury shops catering to mainlanders is crowding out smaller local boutiques.
Remembering the old days
Many of the older residents in Hong Kong left China in the middle of the last century to escape the rise of the Communist Party and the chaos that ensued.
And Hong Kong's long history as a flourishing capitalist society under the British bequeathed to some in Hong Kong an enduring aversion to communism.
Some have also become uneasy in recent months about the possibility of Beijing exerting its military might on top of political control, as protests have built up.