Wang Dan: HK protests 'inspire new generation'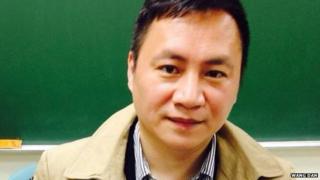 Wang Dan, one of the student leaders in the 1989 Tiananmen Square protests, was No 1 on China's most-wanted list after the 4 June violent crackdown.
He was jailed for four years in 1991, freed on parole in 1993 and then jailed for 11 years after being re-arrested in 1995. He was later released early and exiled to the United States.
Wang is currently living in Taiwan, where he is an assistant professor at National Tsing Hua University. He also runs a democracy salon and has a Facebook page where he promotes democratic values and communicates with Chinese students studying in Taiwan or in mainland China.
The BBC's Taiwan correspondent Cindy Sui spoke to him about the Hong Kong Occupy Central movement.
Question: What do you think of the Hong Kong protests?
Wang: The demands are the same - democracy, and what the protesters are facing is the same - the Chinese government. The key question about today's Hong Kong movement is can it continue? Beijing's hope is of course to delay its response as long as possible, in the hope that people will dissipate. So we hope more and more people will come out; only then can this movement continue to be energised. Now there are a lot of people, but the question is can they keep this up after the 1 October National Holiday?
Question: Do you think the protesters will succeed?
Wang: I think whether or not democracy is achieved should not necessarily be judged by whether the movement can achieve a certain goal. I don't think the Beijing government will give in to the protesters' request. But the movement still serves a purpose - it has stimulated a new generation's passion - so the struggle is still beneficial to promoting Hong Kong's democratic development. If in the future, Hong Kong carries out more of these struggles, Beijing might give in. Even if they don't give in this time, the struggle will still have achieved a great success.
Question: Why is China so fearful of granting Hong Kong democracy?
Wang: The basis of Beijing's authority is anti-democracy. If Hong Kong is more and more democratic it will be an example to the mainland, so Beijing feels it must put out the flames of Hong Kong's democracy. China's internal conflicts are increasing, so of course Beijing is more worried than before about losing control.
Question: What do you think Beijing will do?
Wang: Beijing is of course hoping the protests will die out. It also may get rid of [Hong Kong's Chief Executive] CY Leung. If more and more Hong Kong people come out, they still might not grant universal suffrage, but they might give more slots on the nomination committee [which will approve candidates for the next election] to civil representatives.
Question: What advice do you have for the protesters?
Wang: The demands are very important. The movement's leaders should be clear what type of demands they will ask for and how they will end the movement. The demands must be realistic.