Hong Kong protests: Pleas from the protest wall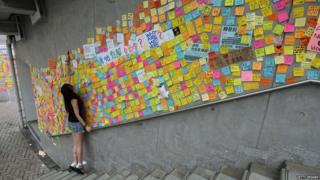 Hundreds of post-it notes have been attached to walls near the Hong Kong government headquarters. What do they say?
689 please step down
"Hong Kong go for it!" begins this message. It continues: "689 please step down" referring to Hong Kong's chief executive CY Leung by his nickname, which reflects the number of committee votes he had when elected. The tone of the note echoes the polite style of the protest so far and it is signed "By those born after 90"
Umbrella icon
The umbrella has become one of the symbols of the protest both on the streets and online. Umbrellas carried to protect the demonstrators from the glare of the sun were transformed into shields against tear gas. This message reads Hong Kong Go for it!
Universal suffrage
Those out on the streets have been angered by the Chinese government's ruling limiting who could stand as a candidate in elections for Hong Kong's leader, due in 2017. Many of the protesters are students who began a class boycott in late September.
This message reads: "Genuine universal suffrage. Everyone go for it! Middle students 1/10."
Peaceful protest
So far, the demonstrations have been peaceful. However, commentators have drawn parallels with the pro-democracy Tiananmen Square protest in 1989 which turned into a massacre when Chinese troops opened fire.
Fear
Some of the messages reflect the fear of state violence, while also echoing previous protests from across the world. A similar phrase to that below was used in protests amid the killing of anti-Vietnam war protesters at Kent State university, Ohio, in 1970.
Photographs by Saira Asher