Dengue kills six in 'worst China outbreak in decades'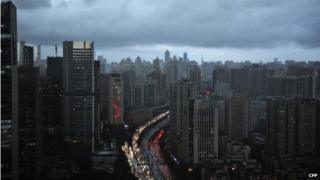 An outbreak of dengue fever in the southern Chinese province of Guangdong has killed six people and infected thousands more, state media report.
Provincial health authorities said that as of early Tuesday, more than 23,000 had been infected.
State news agency Xinhua said the outbreak is believed to be the worst in China for 20 years.
The tropical disease, which is spread by mosquitoes, causes high fever and severe joint pain.
Chinese authorities have attributed the outbreak to high temperatures and wet weather, and increasing travel to dengue-prevalent places.
The number of mosquitoes is also said to have increased five-fold.
The outbreak is also thought to have been exacerbated by the week-long holiday celebrating China's National Day. Daily health reports indicate that there are more than 1,000 new infections a day.
The province capital Guangzhou is launching a clean-up campaign targeting schools and construction sites that were unoccupied during the period, said Xinhua.
It reported seeing vehicles spraying pesticides in Guangdong, and sewers and garages disinfected. Free mosquito repellent is being distributed.
Dengue fever
Dengue fever is prevalent in sub-tropical and tropical regions including South East Asia and South America.
It is primarily transmitted by the Aedes aegypti mosquito, and there are four major strains.
It is a major cause of illness worldwide, causing about 100 million episodes of feverish illness a year.
Symptoms include high fever, aching joints and vomiting. It rarely kills but complications can prove fatal in extreme cases.
Last month Malaysia reported that dengue fever deaths had more than tripled in 2014, while Japan recently saw its first outbreak in 70 years with many contracting the illness at Tokyo's popular Yoyogi Park.
There is currently no vaccine available for dengue, although last month Brazilian researchers released thousands of mosquitoes infected with bacteria that suppress the illness. It is part of a programme also taking place in Australia, Vietnam and Indonesia.