Hong Kong protests: Government to hold talks on Friday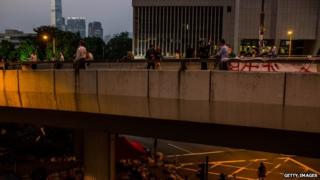 Talks between pro-democracy protesters and government officials in Hong Kong will be held on Friday, officials say.
The talks will discuss "legal implementations of these political reforms," said Lau Kong-wah, government undersecretary, referring to the 2017 elections for chief executive.
The protesters want a fully free vote, but China says it will vet candidates for Hong Kong's top job in advance.
Mass demonstrations which began more than a week ago have largely subsided.
In the past week parts of central Hong Kong were brought to a complete standstill as tens of thousands gathered on the streets in the financial district and over the harbour in Mong Kok.
'Disappointed'
Senior government officials - including Chief Secretary Carrie Lam Cheng Yuet-ngor and Secretary for Constitutional and Mainland Affairs Raymond Tam Chi-yuen - will take part in Friday's talks, scheduled to begin at 16:00 (08:00 GMT).
Lester Shum, a leader of one of the main pro-democracy student groups, said that protesters were eager to talk to senior government officials, but said he was "angry and disappointed" that the scope of the talks would probably be limited.
He reiterated that the talks would not go ahead if the few remaining demonstrators were removed from the streets by force.
There have been growing complaints from Hong Kong's business community that the protests have gone on for too long and are disrupting everyday life.
Department stores suffered a loss in sales of up to 45% in the first week of October, according to the Hong Kong Retail Management Association, during what would normally have been a popular shopping period over the Golden Week holiday period.
The Hong Kong stock exchange has seen up to $50bn (£31.1bn) wiped off the value of shares, with the World Bank warning the demonstrations were hurting the local economy.
"We know we have caused some inconvenience but we have our reasons," said Ronald Chan, a protester in Hong Kong's central business district.
"We hope that other people understand."
---
Hong Kong democracy timeline
1984: Britain and China sign an agreement where Hong Kong is guaranteed "a high degree of autonomy, except in foreign and defence affairs" for 50 years following the handover in 1997.
June-July 2014: Pro-democracy activists hold an unofficial referendum on political reform and a large rally. This is followed by protests by pro-Beijing activists.
31 August 2014: China says it will allow direct elections in 2017, but voters will only be able to choose from a list of pre-approved candidates. Activists stage protests.
22 September 2014: Student groups launch a week-long boycott of classes in protest.
28 September 2014: Occupy Central and student protests join forces and take over central Hong Kong
2 October 2014: Chief Executive CY Leung refuses demands for his resignation, offers talks with government. Student leaders later accept the offer.
2017: Direct elections for chief executive due to take place