Hong Kong lawmakers call for probe into CY Leung payment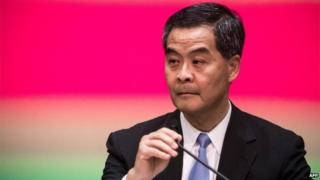 Hong Kong's chief executive is facing mounting pressure over payments he received from an Australian firm which were not made public.
Lawmakers in Hong Kong have asked the anti-corruption watchdog to investigate. Local media said Australian Federal Police had also been asked to launch a probe.
Fairfax Media claimed CY Leung received £4m ($6.4m) from engineering firm UGL.
His office denied wrongdoing. UGL said it was not obliged to reveal the deal.
The payments relate to a deal struck between Mr Leung and UGL in late 2011 when the company was acquiring DTZ Holdings, a firm of which Mr Leung was a director.
The contract, seen by Fairfax Media, is said to show an agreement that Mr Leung would not compete with them or poach from his old company.
Mr Leung also agreed to act as an "advisor from time to time", according to Fairfax Media.
However, Mr Leung's office said in a statement that he had "not provided any service to UGL after signing the above agreement", adding "there is no requirement under our current systems of declaration for Mr Leung to declare the above".
UGL said in a statement that it was "under no obligation, legal or otherwise, to disclose the agreement".
It said such deals were "common confidential commercial arrangements when a business is being acquired".
"The only difference here being Mr Leung went on nearly six months later to become the chief executive of Hong Kong."
UGL said it did not see a need to include a clause to make the payments invalid if Mr Leung became Hong Kong leader, because at the time the firm's management did not think this was likely.
When the contract was agreed Henry Tang was seen as the front-runner for chief executive, but support for him then plummeted over a scandal linked to unauthorised building at his house.
The Australian company also said that during the two-year period of the agreement Mr Leung did not undertake any tasks on its behalf.
Hong Kong's Democratic Party has sent a letter to the Independent Commission Against Corruption asking for an investigation, the party's chief executive Lam Chuek-ting told Reuters.
The Sydney Morning Herald said Greens leader Christine Milne had asked Australia's Federal Police to investigate whether there has been a potential breach of Australia's foreign bribery laws.
Mr Leung, who is backed by Beijing, is already facing intense public pressure from mass pro-democracy protests that have occupied parts of the city.
Demonstrators are demanding full and free universal suffrage in Hong Kong, instead of a proposed system in which voters would cast ballots for candidates approved by a pro-Beijing committee.