Tiger released into wild by Vladimir Putin crosses into China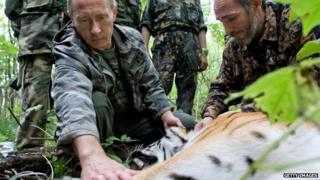 A Siberian tiger released into the wild by Russian President Vladimir Putin has wandered across the Russian border and into China, according to officials.
The endangered animal, named Kuzya, was one of three tigers freed by Mr Putin in May.
But forestry officials said the big cat had now entered Chinese territory after crossing from the wilds of eastern Siberia in search of food.
The head of a Chinese nature reserve said local farmers had been notified.
According to China's state news agency, Kuzya had been tagged with an electronic device and officials are now trying to track its movements.
Chen Zhigang, director of the Taipinggou nature reserve in north-eastern China, said that the tiger would not have to worry about finding food as cattle would be released into the reserve if necessary.
"A Russian expert called to tell us the location of the tiger and expressed the hope that we can protect it," he added.
Russia's president has become well known for his love of elaborate outdoor photo stunts, sometimes involving animals.
Mr Putin has justified them by saying they help the cause of nature conservation.
There are around 400 tigers remaining in Siberia, though the species has been driven almost to extinction in China.