Shaolin Temple: The man behind 'cradle of Kung Fu'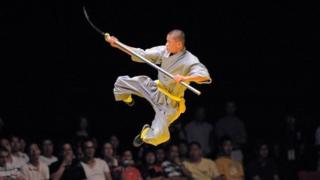 China's ancient Shaolin Temple, famous for its Kung Fu monks, is big business these days. But who is the man leading the global brand?
By anyone's standards, Grandmaster Shi Yongxin is a very different kind of Buddhist monk. He has masterminded the modernisation of the 1,500-year-old temple in recent years - even taking an MBA degree to help him do so.
But he has also stirred controversy, with many Chinese criticising him for "commercialising" the temple, whose warrior monks are famed for their martial arts skills.
I'm not a fan or a follower of the temple - but, like many, I've often wondered what it would be like to meet one of its monks.
When the film Shaolin Temple was first shown in Hong Kong in 1982, I was only a young boy, and I was totally overwhelmed by the stunning Kung Fu skills of Jet Li and his fellow actors in the film.
Since then I've believed that all the Shaolin monks are Kung Fu masters.
Hearing that Abbot Shi was in London was too good a chance to miss - not just because he rarely gives interviews. Perhaps I'd be given a demonstration of Kung Fu from the grandmaster of Kung Fu in person? Would he fly through the air in the BBC newsroom in London or perform a hand stand balanced on just one finger?
In the event, I was sadly disappointed.
Although I did ask Abbot Shi to show me his Kung Fu skills during the interview, he simply refused to make any moves.
It turned out that Shaolin's main monk thinks he's too old for that kind of thing now - even though at 49 he's actually younger than I am.
Abbot Shi told me that he started practising Shaolin Kung Fu when he was a young boy, but does very little physical exercise these days, so doesn't do Kung Fu performance any more.
Later, he did contradict himself on that point - but who's arguing with a grandmaster?
Maybe I shouldn't have been that surprised anyway - the Shaolin Temple is a big sell and Abbot Shi's life is far removed from that of an ordinary Kung Fu monk these days.
His globetrotting engagements probably make it difficult keeping up to performance standard.
Abbot Shi's was the first MBA to be held by a Buddhist monk in China - and those skills he acquired have very definitely been put to use.
He has spent years actively promoting the temple - not only in China but around the world, turning it into what is now a multi-million dollar brand.
There are a number of temples in the US, England and Germany. He is also the chairman of the Shaolin European Association founded in Vienna in 2010.
Abbot Shi is a very well-known and controversial figure in China too. His unusual way of managing Shaolin has made him famous - it's more like a business than a Buddhist temple as many have pointed out. According to some media reports, he drives a luxury car and uses an iPad.
There are also various claims about his personal life in China's social media.
One claim says that he had some secret bank accounts and a number of luxurious villas in Western countries.
Another one points out that he has a wife and a child too. So far, he has never responded to these claims.
So I put them to him - but I was disappointed again.
There was no straight denial as many might have expected.
Instead, Abbot Shi just gave a very philosophical answer: "If these things are problems, they would have become problems by now."
When I pushed him further by asking him whether he would describe all these claims against him as purely rumours, he simply repeated the same answer to me and refused to explain further.
Throughout the interview, I didn't feel like I was talking to a "normal" religious leader with strong religious beliefs and wisdom.
When questioned, Abbot Shi came over as more of a politician or government official because of his way of talking and the language he used.
Even when I asked him whether he would consider making the financial accounts of Shaolin Temple open to the public to end the suspicion over its commercial activities, he said he couldn't do it because it could have implications for other Buddhist temples.
The Kung Fu monks still dazzle with their skills - and their grandmaster has helped spread their fame worldwide.
But perhaps it would be more precise to describe him as the CEO rather than the Abbot of the Shaolin Temple.