Hong Kong's leader says protests will not sway China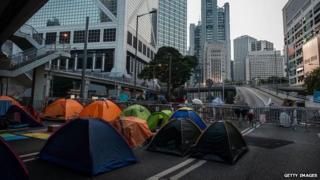 Hong Kong's Chief Executive CY Leung has insisted China will not change its mind on the format for elections in 2017, despite weeks of protests.
In a TV interview, he said the protests had "spun out of control" and did not rule out the use of force to end them.
The pro-democracy protests have brought thousands on to the streets, paralysing parts of Hong Kong.
China has agreed to direct elections in 2017, but wants control over which candidates can stand.
The number of protesters has varied over the past three weeks, but hundreds remain camped out on Gloucester and Harcourt roads, blocking a key thoroughfare in Hong Kong Island's Central and Admiralty districts.
'Minimum force'
Mr Leung told TVB on Sunday that Beijing would not change its mind on the election format.
He said: "In achieving universal suffrage in 2017, if the prerequisite is to put down the Basic Law and the decision made by the National People's Congress Standing Committee, I believe we all know that the chance is almost zero."
The Basic Law is Hong Kong's mini-constitution and came into effect after the former British colony was handed back to China in 1997.
It states that "the ultimate aim is the selection of the chief executive by universal suffrage upon nomination by a broadly representative nominating committee in accordance with democratic procedures".
It was the NPC Standing Committee's decision on the make-up of that nominating committee that sparked the protest movement.
The protesters say the format will give Beijing control over which candidates stand.
When asked about the protest camps, Mr Leung said: "We've resorted to all kinds of persuasions... We absolutely would not prefer clearing the venue, but if one day the venue has to be cleared, I believe the police will use their professional judgement and training using minimum amount of force.
"We don't want to see our people and our students get hurt."
Mr Leung said again that he would not resign and that the protest movement had "lost control".
He called off talks with protesters on Thursday, saying students' refusal to end their campaign had made "constructive dialogue" impossible.
A coalition of three protest groups issued a statement saying: "We cannot allow one person, Leung Chun-ying, to destroy the Hong Kong core values we so cherish."
---
Hong Kong democracy timeline
1984: Britain and China sign an agreement where Hong Kong is guaranteed "a high degree of autonomy, except in foreign and defence affairs" for 50 years following the handover in 1997
2004: China says it must approve any changes to Hong Kong's election laws
June-July 2014: Pro-democracy activists hold an unofficial referendum on political reform and a large rally. This is followed by protests by pro-Beijing activists
31 August 2014: China says it will allow direct elections in 2017, but voters will only be able to choose from a list of pre-approved candidates. Activists stage protests
22 September 2014: Student groups launch a week-long boycott of classes in protest
28 September 2014: Occupy Central and student protests join forces and take over central Hong Kong
2 October 2014: Chief Executive CY Leung refuses demands for his resignation, offers talks with government. Student leaders later accept the offer
2017: Direct elections for chief executive due to take place