China sentences 12 to death for south Xinjiang attacks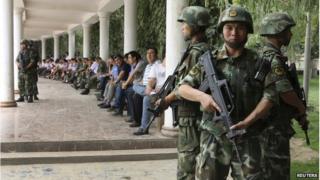 A court in China's restive Xinjiang region has sentenced 12 people to death for attacks that left nearly 100 people dead in July.
Dozens of civilians were killed along with more than 50 attackers when a knife-wielding gang attacked a police station and government offices.
China has seen a number of attacks this year blamed on Uighur separatists.
It has launched an "anti-terrorism" campaign, arresting scores and sentencing some to death.
Government outlet Tianshan News said 12 people had been sentenced to death for their role in the attacks in Yarkant, also known as Shache, just over two months ago.
Fifteen others were given suspended death sentences, nine were imprisoned for life and another 20 received jail sentences ranging between four and 20 years.
The report said they were convicted of "organising, leading or participating in organised terror crimes, homicide, illegal construction of explosive devices, arson, kidnapping and harming public safety".
Tianshan News said that besides carrying out "terrorist attacks", one of the attackers had run onto a road and "slashed at drivers", killing three people. Others had "intercepted, smashed and burned" passing vehicles, and "set off a large explosion targeting police officers".
In all, the authorities said 96 people were killed in the violence - 37 civilians and 59 attackers who were shot dead by security forces.
In the hours following the attack, authorities tightened security in the area, setting up checkpoints and police patrols, and cutting off internet and social media services.
Activists have disputed the official version of events, saying the violence erupted as Uighurs protested against a crackdown.
---
Uighurs and Xinjiang
Uighurs are ethnically Turkic Muslims
They make up about 45% of the region's population; 40% are Han Chinese
China re-established control of the region in 1949 after crushing the short-lived state of East Turkestan
Since then, there has been large-scale immigration of Han Chinese
Uighurs fear erosion of their traditional culture
Why is there tension between China and the Uighurs?
---
Beijing has blamed an increasing number of attacks against civilian targets on Uighur separatists, who it says are inspired by extreme religious ideology from abroad.
Critics of China's policies in Xinjiang point to economic inequality and cultural and religious repression as other possible reasons for the growing radicalism and resentment.
China says it is pouring money into the Xinjiang region, but some Uighurs say their traditions and freedoms are being crushed.