Saxophonist Kenny G visits Hong Kong protests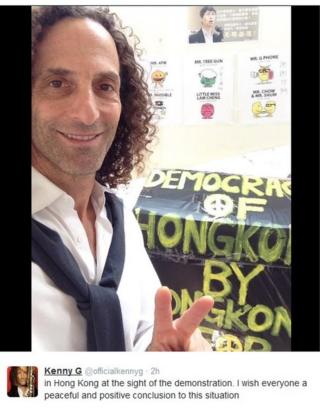 Best-selling US saxophonist Kenny G has paid a visit to a pro-democracy protest site in Hong Kong.
The smooth jazz musician confirmed his appearance on Twitter after pictures of him appeared on social media, and said he wished for "a peaceful and positive conclusion to this situation".
Kenny G is hugely popular in China, and played four concerts there last month.
But his visit prompted Beijing to repeat its warning to foreigners to stay out of domestic affairs.
When asked about the visit at a daily news briefing in Beijing, China's foreign ministry spokesman Hua Chunying said that "Kenny G's musical works are widely popular in China, but China's position on the illegal Occupy Central activities in Hong Kong is very clear".
"We hope that foreign governments and individuals speak and act cautiously and not support the Occupy Central and other illegal activities in any form."
Kenny G, whose real name is Kenny Gorelick, posted a picture of himself in front a pro-democracy poster flashing a peace sign. He had also been photographed with young activists at the Admiralty protest site, close to government offices.
His visit came as the Youth League of China's ruling Communist Party identified on its microblog several Hong Kong celebrities who have supported the protests, including Crouching Tiger Hidden Dragon star Chow Yun-fat, calling them "unscrupulous artists".
The pro-democracy protests in Hong Kong have diminished in numbers in recent weeks, but hundreds of people, mostly students, remain camped on the streets.
They are demanding the right to freely elect their next leader, the chief executive, in 2017. China says voters will be able to choose from a pre-approved list of candidates.
Student protest leaders met government representatives on Tuesday evening to discuss a way out of the crisis, but the talks ended without a breakthrough.