Forbes names Alibaba founder Jack Ma richest person in China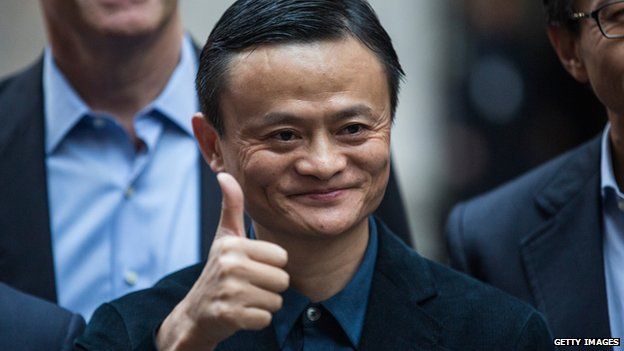 The founder of e-commerce giant Alibaba, Jack Ma, is China's richest person with a fortune of $19.5bn (£12bn), Forbes Media said.
Mr Ma's wealth more than doubled from last year's $7.1bn after his company's record-setting share sale in September.
Entertainment firm Wanda's chief executive Wang Jianlin was knocked out of first place into fourth.
The total number of billionaires in China rose to 242 this year from 168 in 2013, the Forbes annual ranking showed.
Mr Ma, a former English teacher, started the company 15 years ago. Alibaba is now valued at more than $240bn.
It is seen as an industry leader commanding more than 80% of China's significant online e-commerce market.
Earlier this year Mr Ma also topped another rich list, China-based Hurun, which put his wealth at a much higher $25bn.
Robin Li of internet company Baidu, which is known as China's Google, was in second position with an estimated net worth of $14.7bn, up from $11.1bn the year before.
Ma Huateng, also known as Pony Ma, of Tencent, China's biggest online firm, held third position. The company is the parent of the most popular messaging app in China WeChat.
His personal wealth jumped from $14.4bn, up from $10.2bn billion a year ago.