China executes Han Lei for killing toddler in parking row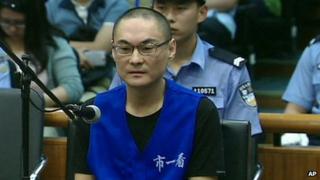 A Chinese man who killed a two-year-old girl after arguing with her mother over a parking space has been executed in Beijing, a court has said.
Han Lei, 39, took the toddler from her pram and threw her to the ground after the child's mother refused to make way for his car.
Lei argued that his actions, which resulted in the girl's death, were unintentional as he was drunk.
The case provoked an outcry in China, with many expressing anger online.
Lei appealed unsuccessfully against the sentence, having previously said he thought the pram was a shopping trolley.
"I did not know there was an infant inside," he told prosecutors.
Prosecutors had recommended the death sentence for Han, who committed the crime within a year of being released from prison, the Xinhua news agency said.
Another man, Li Ming, who drove Han away from the scene, has been jailed for five years.